When we caught up with Jonathan Van Ness, the sixth season of Queer Eye had just dropped, their new beauty line JVN had become the fastest-growing hair brand at Sephora, and the multi-hyphenate was finishing up several projects from a relaxing beach locale.
Rays of sunshine may be exactly what you'd expect when speaking with Van Ness. After all, the hairstylist who rose to fame through Queer Eye has showered their millions of social media followers with radical acceptance (Van Ness identifies as nonbinary and goes by they/he/she). JVN is a brand with inclusivity front and center, along with planet-healthy ingredients and packaging. In our conversation with Van Ness—whose memoir, Love That Story, is coming out this month—we talked about what it takes to make a beauty brand up to their standards and how they are hitting reset these days.
How are you feeling about all the big things you have going on right now?
I don't know if it's because I'm about to turn 35, but I feel like my life has started to finally sink in. It's just been so surreal as far as becoming a public figure, getting to launch a hair brand, getting to be on a show, my podcast…. It's so many things that I've wanted to happen and worked so hard for. I feel like I'm becoming more sure of myself every day.
Van Ness checking out the collection at Sephora.
JVN
Is launching your own brand all fun, or is it scary sometimes?
It's the most exhilarating, exciting labor of love. I pour so much into JVN, including my 15 years as a hairdresser. And there is a certain amount of nervousness, because you want people to like it! But what really drives me about JVN is inclusion, because I always felt particularly excluded from the beauty industry. Having been assigned male at birth, I wasn't encouraged to be interested in beauty or my natural fashion [laughs], which is, you know, evening gowns! Whether it was fashion or beauty or just feeling beautiful, it was a sandbox I felt rejected from.
I'm not into creating things for the sake of creating them. I want to move a conversation forward.
So, I had many goals for JVN: to be an ingredient queen, to move the sustainability conversation forward, and also inclusivity.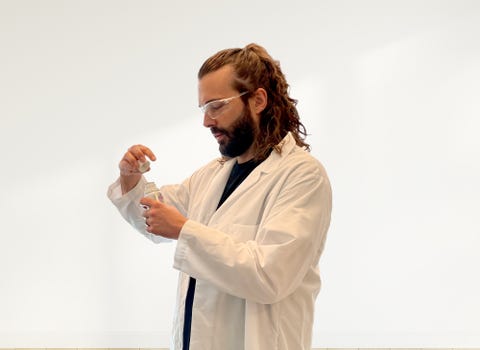 Van Ness in the JVN lab at Amyris headquarters in Emeryville, CA. The signature ingredient, hemisqualane, made with fermented sugarcane, is a sustainable silicone alternative.
JVN
Tell us what you mean about being an ingredient queen.
Well, the only times I've ever been paged at a store was when I got lost from my mom in the supermarket or mall because I would go rogue and be in the beauty aisle. You would find me in a corner with, like, eight bottles, reading the ingredients and smelling them. I've always been really into ingredients and wanting to make things that work the best.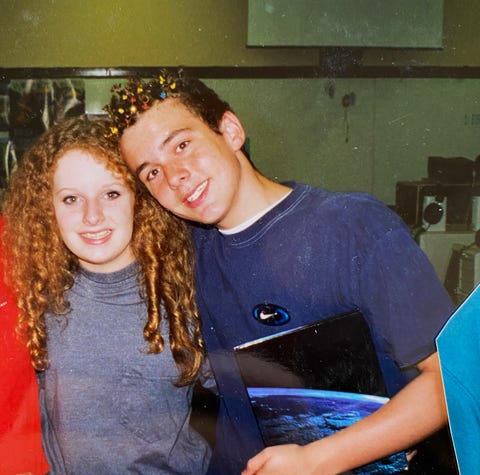 Van Ness with best friend in 2000.
JVN
How does that affect the sustainability aspects of JVN?
I'm not into creating things for the sake of creating them. I want to move a conversation forward. Through my work with Biossance, I learned about a new ingredient called hemisqualane made by [the biotech company] Amyris. I started experimenting with it and my hair had all this shine! Hemisqualane is a half-size squalane molecule made with sustainable biotech using fermented sugarcane. The sugarcane is sustainably grown; they even use the gas from the fermentation to power the plant, which is incredible. Hemisqualane acts as a sustainable silicone alternative across the entire line. When I worked with the Environmental Working Group, I learned about all the bioaccumulative impacts of silicones. I knew silicones weren't good for our hair because of buildup, but I didn't realize they were so bad for the planet too.
Packaging is also a big part of JVN's environmental commitment.
Yes! I got sent so many beauty products over the past four years, and the thing I really noticed? Plastic, plastic, plastic… so much plastic! We don't have the technology to go 100 percent plastic-free—yet—because you need plastic for seals to prevent leaking and keep things hygienic, but we're using PCR plastic (post-consumer resins) where needed. Almost everything else is recyclable glass, aluminum, or paper.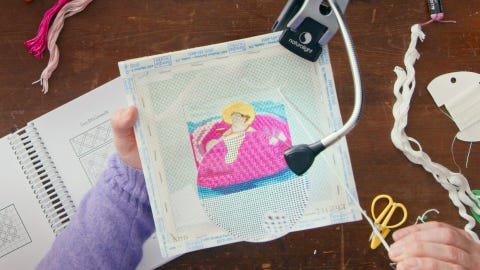 Van Ness' needlepoint design.
SkillShare
With everything on your plate, we have to ask: What does the most vocal self-love expert do for self-care?
Today what it looked like was I woke up early, I did 20 minutes of quiet needlepointing—I just love needlepointing, it's very meditative for me and I get really into my breath when I do it. I did a three-minute guided sunrise meditation for my nervous system—I usually do a meditation from one to seven minutes a day. And after this call I'll do my cosmetic self-care practice: putting on my plumping skin serum and sunscreen. And I love to take a bath! It's a sweat-and-reset—I'll put crystals in the bath too.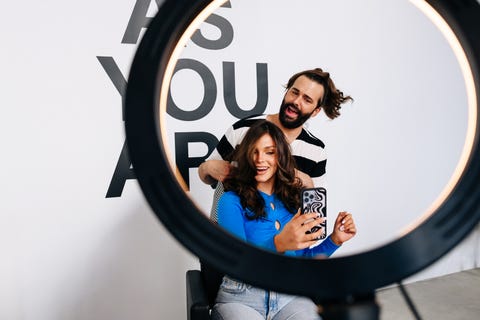 Van Ness doing what they do best.
JVN
What about doing hair? Is that something that still brings you joy?
I had to stop doing it full time in 2018 because the show and everything else made me too busy, but it's still a big part of my life and I style several people every week. There's a lot of forced stylings among my family and team! I think I've just been obsessed with it my whole life. In a way it's like the needlepointing—it's equal parts creative and science. It just feels really rewarding.
This content is created and maintained by a third party, and imported onto this page to help users provide their email addresses. You may be able to find more information about this and similar content at piano.io
Source by www.elle.com