In this article, you will learn about the ingredients in skin care products to avoid. So, let's get started here! Taking care of our skin is crucial to maintaining our overall health and appearance. The skincare industry offers a wide range of products from cleansers to moisturizers and serums. However, not all skincare ingredients are created equal. Some ingredients can be potentially harmful and may cause adverse effects on our skin and well-being.
Moreover, we will explore the ingredients in skincare to avoid, shedding light on their potential risks and providing alternatives for healthier and safer choices.
The ingredients in skin care to avoid
You should avoid these ingredients in your skincare which are given below in detail.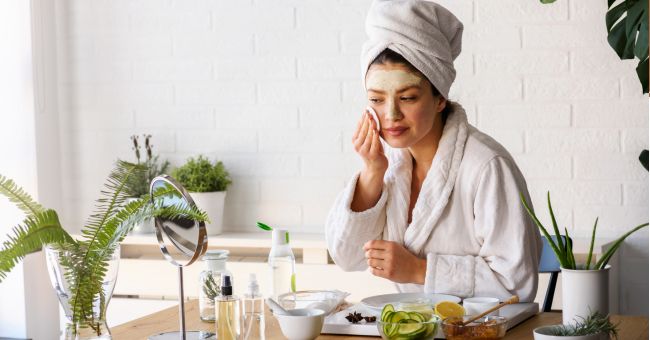 1. Parabens
Parabens are a group of synthetic preservatives commonly used in skincare and cosmetic products to prevent bacterial growth and extend product shelf life. However, they have raised concerns due to their potential endocrine-disrupting properties so, a big no for these ingredients.
This section will delve into the different types of parabens, and their potential risks, and offer safer alternatives for preserving skincare products.
2. Synthetic Fragrances
Synthetic fragrances are often added to skincare products to enhance the scent and create a pleasant sensory experience. However, these fragrances can contain a cocktail of harmful chemicals, including phthalates, which have been linked to allergic reactions, skin irritation, and even hormone disruption. I will suggest natural alternatives that provide fragrance without compromising skin health.
3. Sodium Lauryl Sulfate (SLS) and Sodium Laureth Sulfate (SLES)
SLS and SLES are surfactants commonly found in cleansers, shampoos, and body washes. While they create a rich lather and help remove dirt and oil from the skin, they can also strip away the skin's natural oils, leading to dryness, irritation, and compromised skin barrier function.
lastly, will discuss the potential drawbacks of SLS and SLES and recommend gentler cleansing alternatives that maintain the skin's natural balance.
4. Formaldehyde
Formaldehyde and formaldehyde-releasing preservatives (FRPs) are used to prevent bacterial and fungal growth in skincare products. However, formaldehyde is a known human carcinogen and can cause skin irritation, allergies, and respiratory issues. Moreover, will shed light on the risks associated with formaldehyde and provide information on safer preservative options.
5. Phthalates
Phthalates are a group of chemicals commonly used as plasticizers and fragrance stabilizers in skincare products. They have been linked to hormone disruption, reproductive issues, and skin sensitization. Also, you must examine the presence of phthalates in skincare products, and their potential health risks, and suggest phthalate-free alternatives for healthier skincare choices.
6. Mineral Oil
Mineral oil is a petroleum byproduct often used in skin care products as an occlusive agent to lock in moisture. However, it forms a barrier on the skin's surface that can hinder the natural breathing and detoxification processes, leading to clogged pores, acne, and potential skin irritation.
This section will explore the drawbacks of mineral oil and recommend natural oils and moisturizers as alternatives for nurturing the skin.
7. Hydroquinone
Hydroquinone is a common ingredient found in skin-lightening and brightening products. While it effectively reduces hyperpigmentation, it carries potential risks, including skin irritation, allergic reactions, and even carcinogenic properties.
Furthermore, will discuss the concerns surrounding hydroquinone and suggest natural alternatives for achieving an even skin tone.
8. Synthetic Colors
Synthetic colors are added to skincare products to enhance their visual appeal. However, these artificial colorants can be derived from coal tar or petroleum and may contain heavy metals that pose potential risks to the skin. Moreover, will highlight the dangers of synthetic colors and suggest natural and plant-based alternatives for coloring skincare products.
Vital Tips to Protect Your Skin and Avoid Infections
To ensure safety and avoid skin infections caused by harmful ingredients in skincare products, it is important to follow these safety tips:
1. Read Product Labels:
Thoroughly read and understand the ingredient list on skincare product labels.
Familiarize yourself with the harmful ingredients mentioned in the article above, such as parabens, synthetic fragrances, sulfates, formaldehyde, phthalates, mineral oil, hydroquinone, and synthetic colors.
Avoid products that contain these ingredients or opt for alternatives that prioritize natural and safer ingredients.
2. Research and Stay Informed:
Stay up to date with the latest information about harmful skincare ingredients by reading reputable sources, scientific studies, and dermatologist recommendations.
Educate yourself on the potential risks and side effects associated with specific ingredients to make informed decisions about the products you use.
3. Choose Trusted Brands:
Purchase skincare products from reputable and trusted brands known for their commitment to safety and quality.
Look for brands that prioritize transparency, provide detailed ingredient information, and have a good track record of producing safe and effective products.
4. Perform Patch Tests:
Before incorporating a new skincare product into your routine, perform a patch test on a small area of your skin.
Apply a small amount of the product to your inner forearm or behind the ear and monitor the area for 24-48 hours for any signs of irritation, redness, itching, or inflammation.
If a negative reaction occurs, avoid using the product on your face or body.
5. Avoid DIY Skincare Recipes without Proper Knowledge:
Be cautious when using homemade or DIY skincare recipes found online, as they may include harmful ingredients or incorrect formulations.
Consult with a dermatologist or skincare professional before trying any homemade skincare remedies to ensure they are safe and suitable for your skin.
6. Be Wary of Counterfeit Products:
Purchase skincare products from authorized retailers or the brand's official website to minimize the risk of buying counterfeit or adulterated products.
Counterfeit products may contain undisclosed harmful ingredients or contaminants that can lead to skin irritation or infections.
7. Store and Handle Products Properly:
Follow the storage instructions provided by the manufacturer for each skincare product.
Store products in a cool, dry place away from direct sunlight, extreme temperatures, and humidity.
Close containers tightly to prevent contamination and avoid introducing bacteria into the products.
8. Consult a Dermatologist:
If you have specific concerns about certain ingredients or their potential effects on your skin, consult a dermatologist.
A dermatologist can provide personalized advice, recommend suitable products, and address any questions or concerns you may have.
By following these safety tips, you can minimize the risk of skin infections and protect your skin from the potentially harmful effects of certain ingredients in skincare products. 
Conclusion!!
Overall, it is crucial to avoid certain ingredients in skincare products to maintain healthy skin. Harmful ingredients such as parabens, synthetic fragrances, sulfates, formaldehyde, phthalates, mineral oil, hydroquinone, and synthetic colors can pose risks to our skin and overall health. By reading labels, researching ingredients, and opting for natural and safer alternatives, we can make informed choices Whether it's for our skincare routine or Makeup products. Prioritizing our skin's well-being and avoiding these harmful ingredients will help us achieve and maintain healthy, radiant skin.
Frequently Asked Questions!!
1Q: Are all parabens harmful, or are there safer alternatives?
Not all parabens are necessarily harmful, but some studies have suggested potential risks associated with certain types of parabens. To avoid potential concerns, look for skincare products labeled as paraben-free or opt for natural preservatives like grapefruit seed extract, vitamin E, or rosemary extract.
2Q: How can I identify if a skincare product contains phthalate ingredients?
Phthalates are often not explicitly listed on ingredient labels, as they are often hidden under the term "fragrance" or "perfume." To avoid products containing phthalates, choose fragrance-free or phthalate-free options. Look for products with transparent labeling practices or consider reaching out to the manufacturer for clarification.
3Q: Are there any natural alternatives to hydroquinone for skin lightening?
Yes, there are natural alternatives to hydroquinone for achieving a more even skin tone. Ingredients such as kojic acid, vitamin C, licorice extract, niacinamide, and arbutin have been known to possess skin-brightening properties. However, it's important to note that results may vary, and it's advisable to consult with a dermatologist for personalized recommendations.
4Q: How can I determine if a synthetic colorant is present in a skincare product?
By carefully examining the ingredient list on the product label, you can spot these color codes. To avoid synthetic colorants, opt for products labeled as "dye-free" or "naturally colored" or choose products that use plant-based colorants like beetroot extract or turmeric.