By Megan Collins | Last Updated: Apr 1 2022
Recently I gave my living space a nice little zhush, and now I can't stop singing the praises of a good home makeover for hitting "reset" on your style.
And yes, I mean all of your style.
How you decorate your home says as much about your personal style as the clothes hanging in your closet. Just admit it: you've walked into someone's apartment or home and thought, "Ehhhhh."
I know I certainly have. It may not have been a dealbreaker, but I've definitely liked a guy more (and others, less!) after seeing the way they've decorated their space. Which is not a judgment based on how much money a guy spends on decor.
Personally, I've got some great pieces in my place found at Ikea, Target, and Cost Plus World Market.
Rather, it's just a bummer to see someone put little to no thought into how their home is a reflection of themselves, and how an inviting space totally trumps a space that's devoid of personality.
It's not about money; it's about taste and intention.
If you're tugging at your collar and thinking to yourself, Dear God, I hope Megan never comes over to my house, I say: don't worry!
One, I probably won't (we don't actually know each other!). And two, I'm here to help so that no woman ever walks into your home and thinks, Oh no, but he dresses so cute!
That's right. It's time to get rid of your old, banged up furniture and juvenile tchotchkes and find some swankier goods to take their places.
Below, a men's home decor guide for upgrading your living space:
Step 1:  FIGURE OUT WHAT YOU LIKE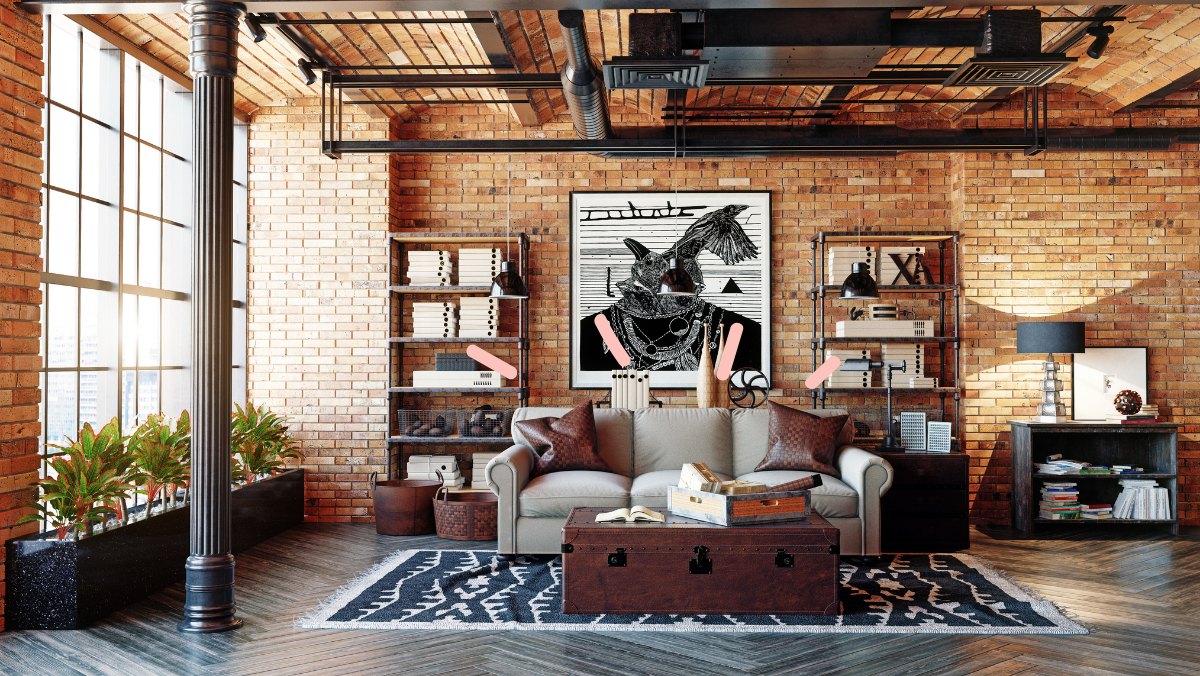 Are you a mid-century modern man with an eye for vintage pieces?
Do you prefer white leather couches and have an itch for anything Italian with a clean modern line?
Perhaps you've been dreaming of a cherry coffee table with traditional spindle legs.
No idea what any of the above even means? That's cool, too.
Here's what to do: Start browsing interior design sites, like Dwell and Design Sponge and make a mental note of what you like. Start a Pinterest board and save all the men's home decor that speaks to you.
Heck, go check out everyone's favorite house flippers' Chip and Joanna Gaines' home goods collection at Target. You'll start noticing patterns in the styles and trends that catch your eye.
Step 2: PURGE. IT'S A VERB.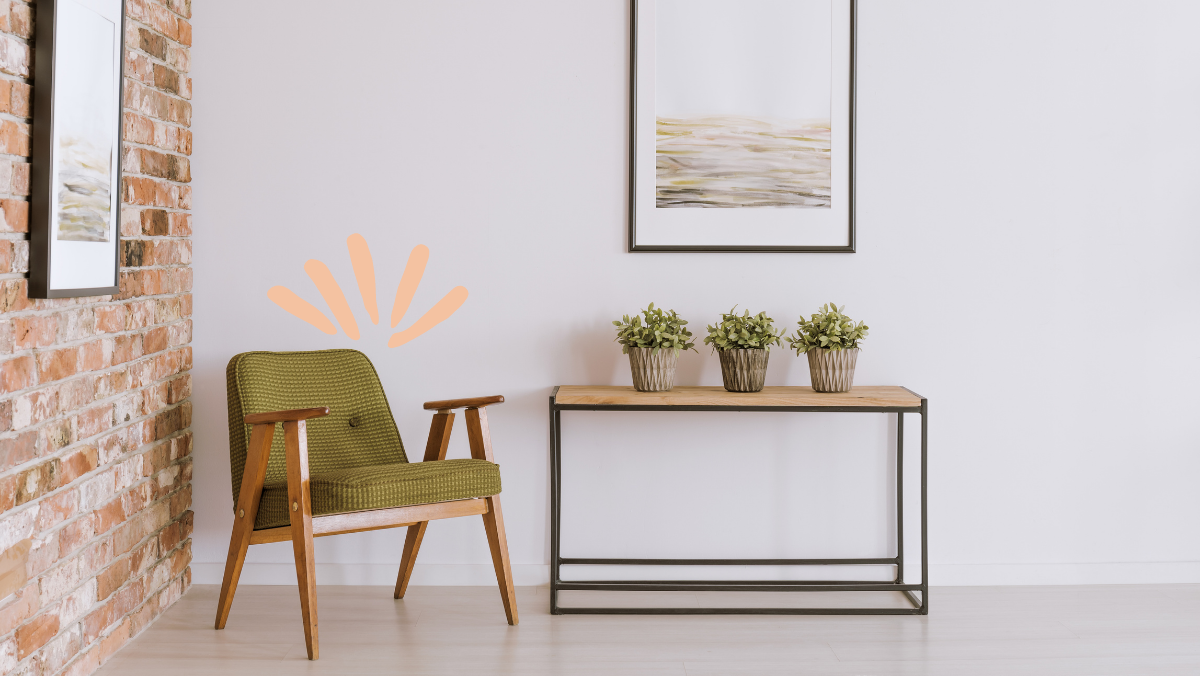 I know. This part's not fun. But it's necessary. So necessary.
Now that you have an idea of the style you want for your home, it's time to play that old Sesame Street stand-by, One of These Things is Not Like the Other.
Take a hard look at the furniture and accent pieces in your home and begin to decide which pieces fit the look you are going for and which ones definitely don't. The focus is on minimizing the clutter to maximize the space you have to work with.
Functionality plays a big role, too. Do you really need all the stuff that's taking up real estate in your house or apartment? Like the DVDs you bought when Blockbuster was going out of business? Probably not. So take that hideous plastic tower to the curb.
RELATED: The SG Guide to Spring Cleaning
Or what about that end table from IKEA you inherited from your old roommate (no, not the last one..the roommate before that)? You know the one. It came in multiple colors, was stackable, can barely hold a coaster or even a cup of coffee. I bought it. Everyone bought it. Get rid of it.
All I can say is, thank the internet gods for Craigslist. People will gladly take your old things away from your home for free! Some will even offer you money for the things you think are now junk. What a world, huh?
There are also plenty of second-hand establishments that will pick up your donated items; just do a quick search for one in your area and get to purgin'.
Step 3:  DO A TEST RUN, ON PAPER
Once you've gotten rid of all the unnecessary pieces from the room, you'll start feeling lighter, excited even about the abundance of possibilities in your newfound space. If you're feeling the opposite, well…they have hotlines for hoarders. The first step to recovery is admitting you have a problem.
Grab a measuring tape, pencil and paper. Draw an outline of your living room on a piece of paper and measure each wall.
That way, you'll be able to visually arrange the furniture according to how much space you have. You'll also have the freedom to purchase new items without doubting whether each piece will fit or not.
For instance, you may have fallen in love with a new piece of art or a comfy leather couch.  Be sure that the frame fits perfectly on the wall and the couch can squeeze through the front door.
Step 4: MAKE IT YOUR OWN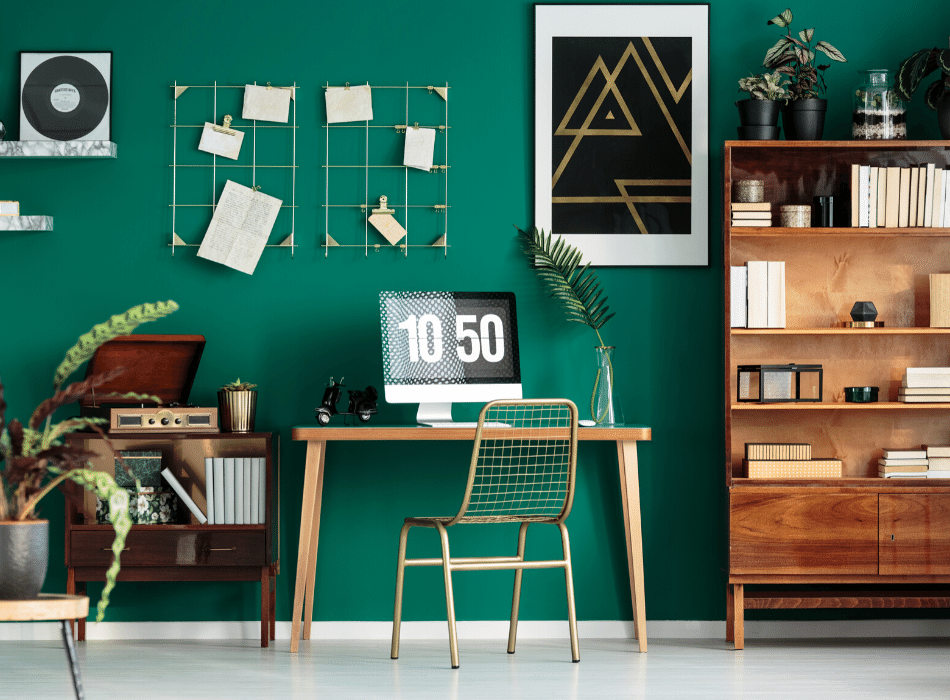 This is where the magic happens.
When it comes to men's home decor, there are so many ways to make a space feel unique to you and your personal style. Choose an accent color for your living room that coincides with your home decor inspiration.
Paint the walls. Or just paint one.
Buy a new floor lamp to replace that dingy end table you just threw away.
Pick out two side tables that add a funky pop of color.
This is your space and an opportunity to express who you are in any way you would like. Once you get more comfortable, you can begin to mix elements and decor types to put your personal stamp on things.
For example, try a glass coffee table alongside a sleek mid century wooden arm side chair. Then try marble-topped end tables with ceramic lamps as a bright accent. Much like getting yourself dressed in the morning, your style options are endless.
If you find yourself feeling stuck or uninspired, Pinterest has more than enough ideas to keep you busy. This is about creating a space you look forward coming home to – a living room that's welcoming and feels like you. 
Not to mention securing bragging rights with your friends, and a little help in the lady department.  Own it, and just like with your wardrobe, don't forget to have fun!
Shop #SGApproved Home Picks:
Thanks to Shelly Lynch-Sparks at Hyphen & Co for contributing to this men's home decor guide!


Source by stylegirlfriend.com