Sharing my top 10 health and wellness accounts to follow on Instagram.
Hi friends! Happy Monday! How's the day going so far? I got a sub for today's class since P was under the weather (first Liv, now P, but she's on the ups), so we're chilling here. I hope you have a wonderful and relaxing day.
For today's post, I wanted to share some of my favorite accounts to follow on Instagram. I follow a LOT of accounts, but these are some of the ones that make me excited whenever they post a new feed post or story. Something they all have in common: the fact that they stay true to themselves and all have a no-BS kind of mentality. Turns out that I gravitate towards that realness.
I always love hearing about new valuable accounts to follow, so if you have any faves I didn't mention on the list below, shout them out in the comments section! Also shameless plug here to follow meeeeeee. I post health-related reels and lots of stories over on my IG page.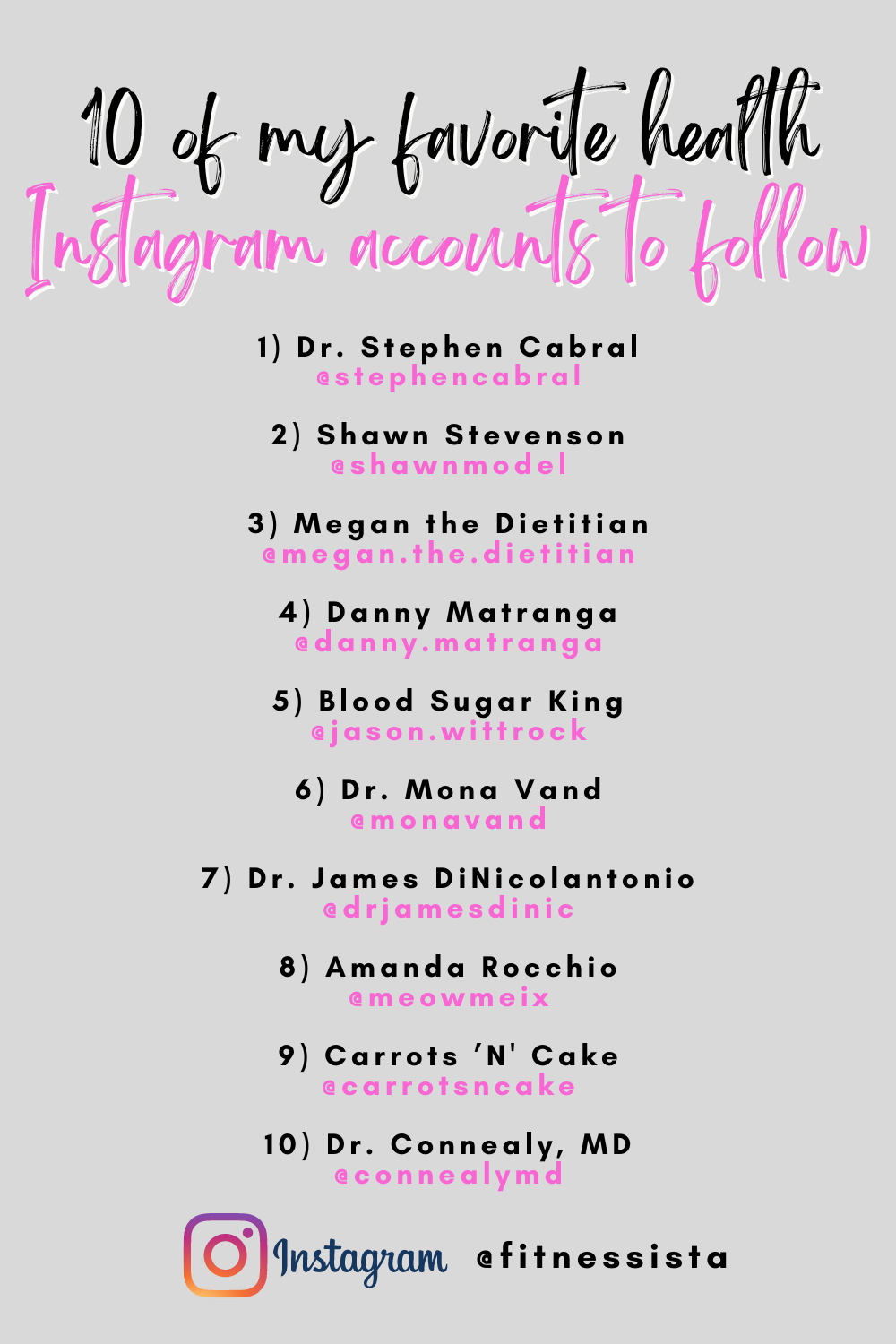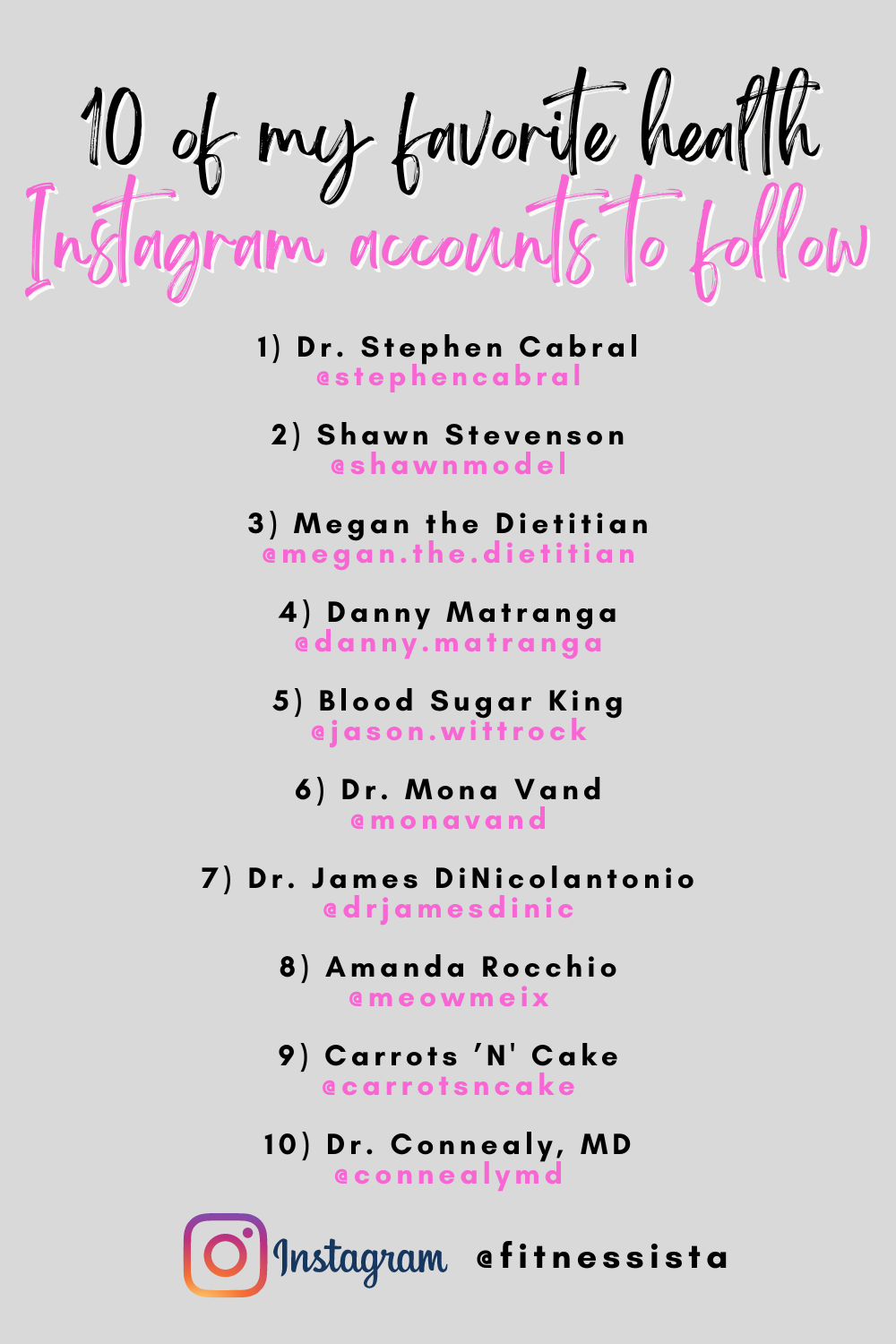 10 of my favorite health Instagram accounts to follow
I'm a huge fan of Dr. Stephen Cabral and love sharing his work with those I love. I've been taking his Integrative Health Practitioner certification source (join me as a virtual study buddy! Use the code FITNESSISTA), and he's extremely knowledgeable about SO many things. Interesting fact: he started in the fitness world as a personal trainer and embarked on this journey to heal himself from unexplained illnesses. He's now a board-certified doctor of naturopathy, author, podcaster, and has helped thousands worldwide. Check out this podcast, read his book, and you can listen to a podcast episode I did with him here!
I'm pretty much the Model Health Show #1 fan girl, so naturally, I love following his account on IG. Everything that he shares and posts is heavily backed by science, but he has such a low-key way of breaking everything down to make it easier to understand. He has a couple of books that I've read and loved, too. (Definitely check out Eat Smarter.)
This is one of my top RD accounts to follow because she gives real life tips for improving your relationship with food and repairing your metabolism, particularly after long-term dieting. She also reviews popular dieting products and eating programs on her page.
If you're looking for a personal trainer to follow that gives tips and support for all spectrums of a fitness journey (from very beginners to very advanced), definitely check out his page. If you're looking for motivation to strength train, fitness tips, and build muscle, I highly recommend following him. He also has an amazing podcast and was featured on one of my podcast episodes here.
The Blood Sugar King aka Jason Wittrock wears a Nutrisense CGM and runs various experiments to see what spikes his blood sugar and how his body recovers. It's fascinating to see how something like a Chipotle burrito, a protein bar, or rice that has been cooled (turning it into resistant starch) can do. Friendly reminder that his results could be completely different from how your body responds to food, but still very interesting to follow along.
Dr. Mona Vand is a pharmacist turned healthy lifestyle influencer. She posts a lot of tips (like what type of pasta to choose, how to create an anti-inflammatory salad, when you should look for organic options, etc) and I also LOVE her style/fashion.
Dr. James DiNicolantonio is a cardiovascular research scientist and author. His IG page is filled with tips on minerals and simple steps for health. His book, The Obesity Fix, is on my to-read list.
Amanda Rocchio shares healthy meal ideas, meal prep hacks, and tons of gorgeous recipes on her page. I feel like she does an incredible job demonstrating the *how* when it comes to creating a healthy lifestyle. Check out her page for tons of meal prep and recipe inspo, especially if you're looking for some new ideas.
My friend Tina is killing the IG game lately! She shares tips for balancing your hormones, mineral imbalances, healthy lifestyle strategies, functional testing details and supplements. I've known Tina since the early blog days of yore, so it's been pretty awesome to see her business grow and evolve over the years. Check out her page here!
I think Dr. Connealy is incredible and I'm always inspired by the work she does treating various cancers through alternative and traditional therapies. She's very much into root cause, treatment, and making the terrain of the body inhospitable to cancer and recurrence. She has a book (just ordered my copy!) and one of my favorite things she does is share what her team eats for lunch during meetings each week. It's interesting to see what food choices they make while treating cancer successfully. (I see lots of healthy fat, red meat, sweet potatoes, sourdough, roasted veggies, rice, and fresh produce)
So, tell me, friends: what are some of your favorite accounts to follow on IG?
Have a lovely day and I'll see ya soon! Thanks so much for stopping by the blog today.
xoxo
Gina


Source by fitnessista.com