Sharing some of the best fitness apps for moms. I'd love to hear about your faves in the comments section!
Hello hello! How are ya? I hope you're having a lovely morning. I'm catching a workout with a friend and have podcast interviews the rest of the day.
For today's post, I wanted to share some of my favorite fitness apps, especially for my mama friends out there. I know that life can be crazy when you have little ones or a baby, and time feels like a huge luxury. It can also be hard to remember to exercise regularly when you're living that mom life. Getting in shape or maintaining a fitness routine with kids can be tough and fitness apps can be super helpful. Apps can help you stay on track with goals, tell you what to do (so you don't have to think about it!) and by using an app, you can squeeze in a few minutes to do some fitness routines during busy days.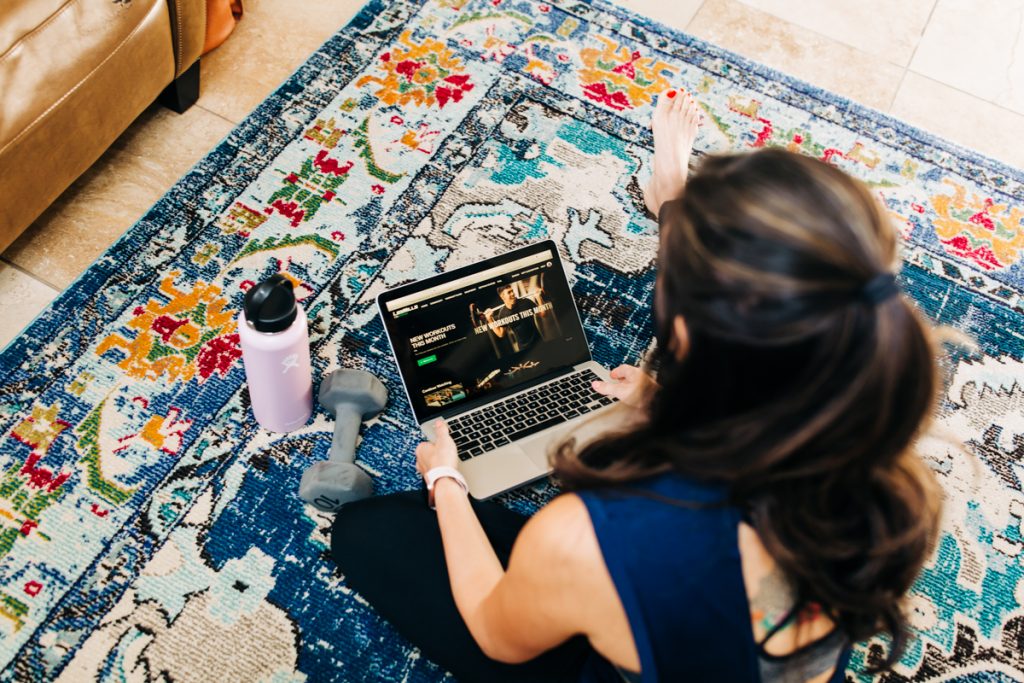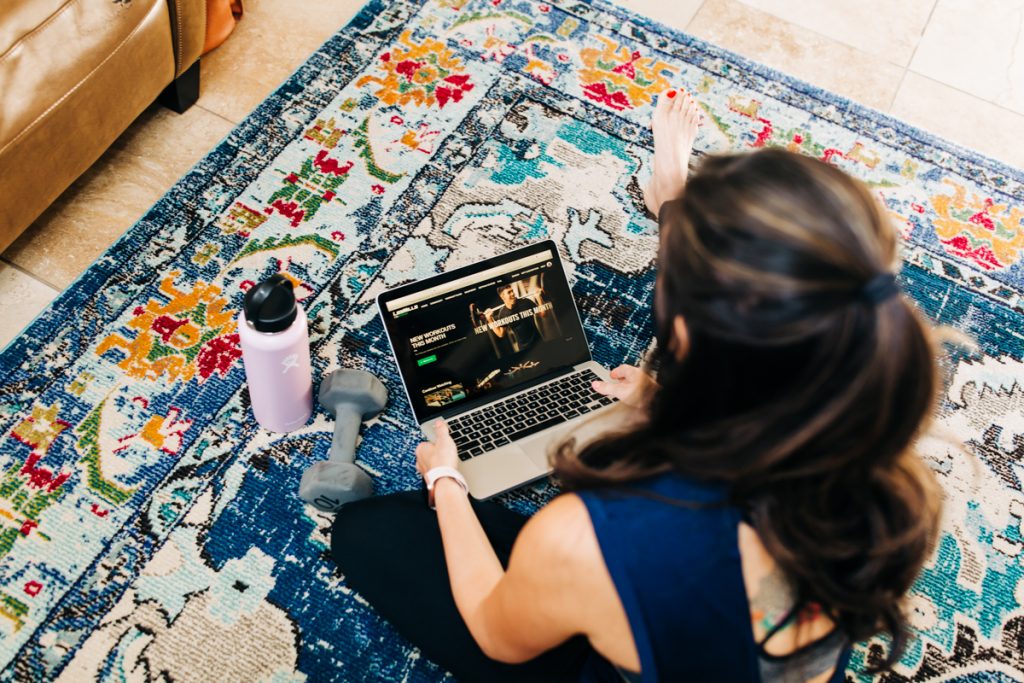 10 Best fitness apps for moms
Les Mills+
I've been a fan of Les Mills for years and really feel like it's the gold standard for group fitness. All of the moves have purpose and structure, and the classes are choreographed to go with the music. The instructors are engaging and SO good – the best of the best – and they have so many formats on their site. Whether you want to lift weights (BODYPUMP), strengthen your core (CORE), kickbox (BODYCOMBAT), or get in a sweaty HIIT workout (GRIT), there's really something for everyone. They provide modifications, the equipment you'll need for each class, the moves you'll be doing, and you can mix and match different formats together. If you want to try it out, use my special link for 30 days FREE. 
Sculpt Society
I liked this app WAY more than I thought I would and feel like it's a perfect fit for my friends out there who want low impact strength and dance cardio. The classes are fun, easy to follow, and I feel like Megan Roup and the other instructors do a great job motivating and cueing. You can check out my full review of Sculpt Society here! Access is around $20 per month.
Peloton
Peloton is an incredible app and has pretty much everything you could ever want: cycling, indoor and outdoor running and walking classes, barre, Pilates, dance cardio, strength, core, stretching, and meditation. The app enables you to filter classes by instructor, amount of time, music type, class type, etc. You can also see reviews from other participants and check out the playlist in advance.
Peloton has been one of my favorites for a long time – you can check out my review of the app and favorite instructors here – and they continue to improve and offer and new features. The only downside is that some of the classes don't feel quite as purposeful or structured as others, but if you check out the reviews and find an instructor you love, you'll have better luck at picking good workouts. They offer a free 30-day trial and it's $12.99 per month (cost is higher if you use a Peloton bike or treadmill).
Don Saladino's Playbook App
This app doesn't have a lot of the bells and whistles of some of the larger app platforms, but the workouts are a gold star. I'm a huge fan of Don Saladino – he's a celeb trainer who has worked with Ryan Reynolds and Blake Lively – and I love the way he structures his strength workouts. He sticks with a lot of the basic movements that truly work and structures them in a way that will leave you feeling challenged and sweaty. The playbook app is only $14.99 a month and has quite a few different workout plan tracks.
Sweat
Sweat is probably my #1 pick for women's fitness apps. They have different workout programs based on the equipment you have, your fitness level, and goals, and you can follow along the timed blocks with a video tutorial of each exercise. You can read my review of the Fierce program here. There are also sample meal plans and recipes within the app. The cost is $19.99 per month.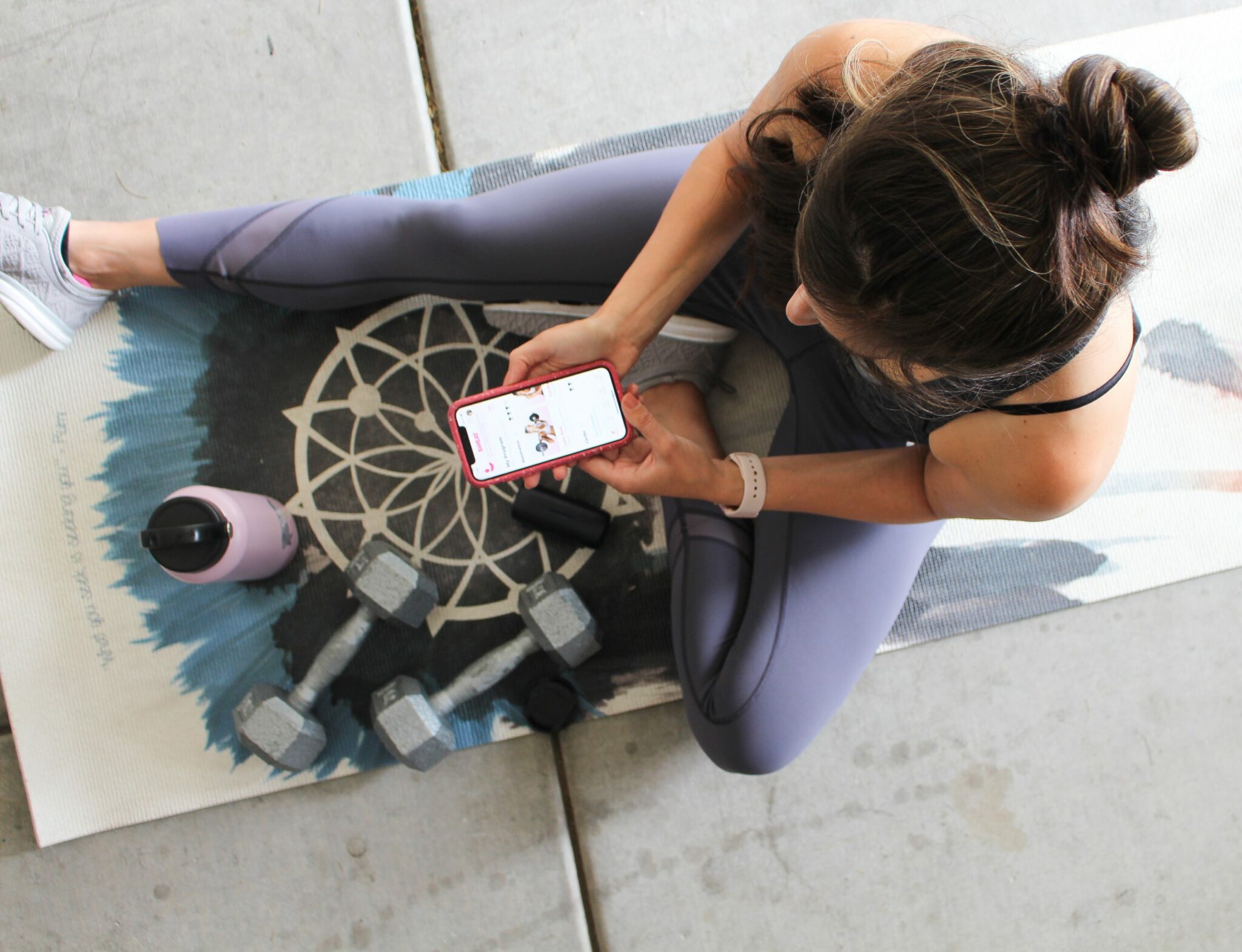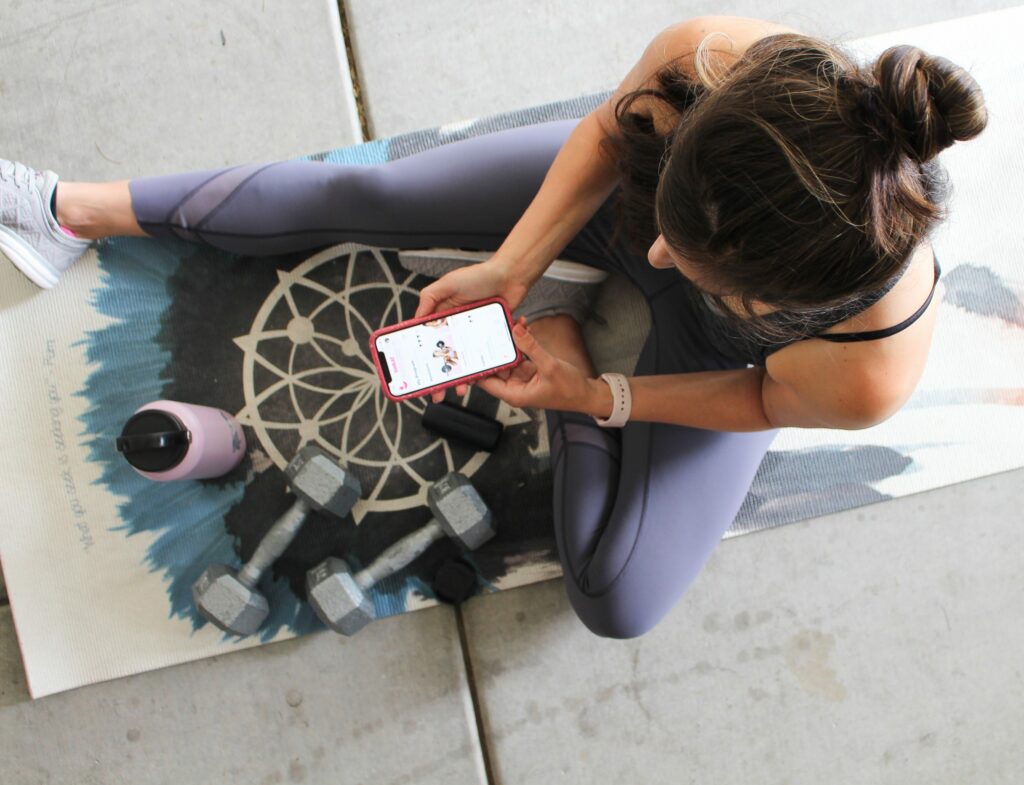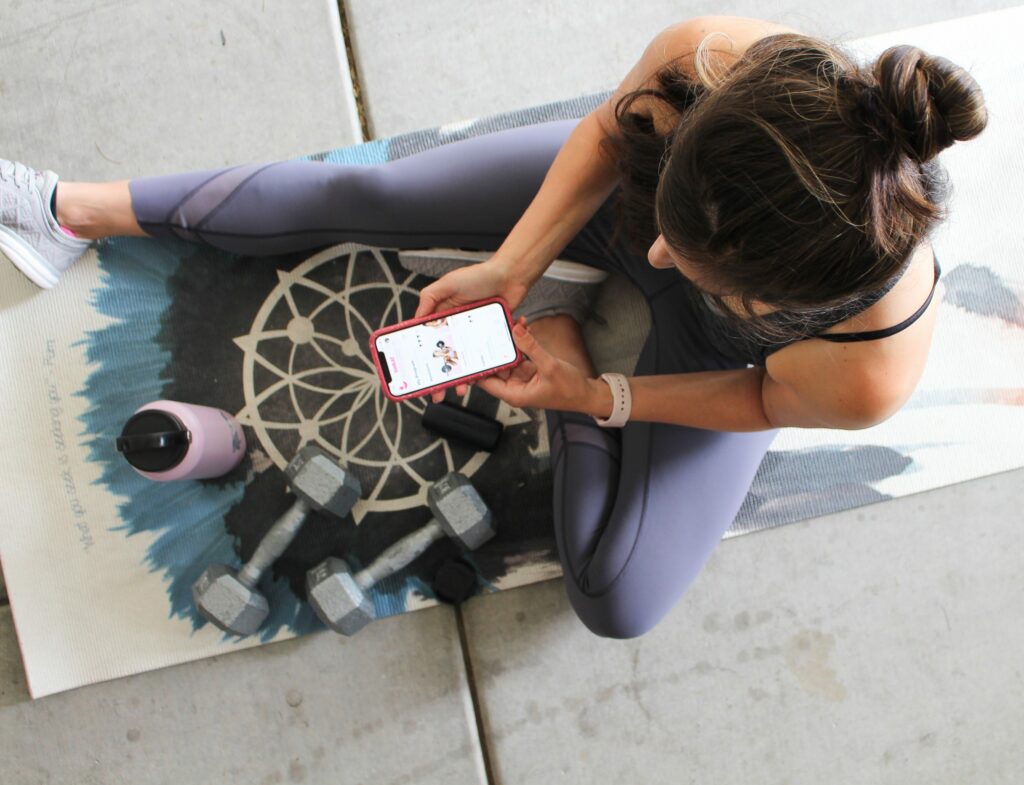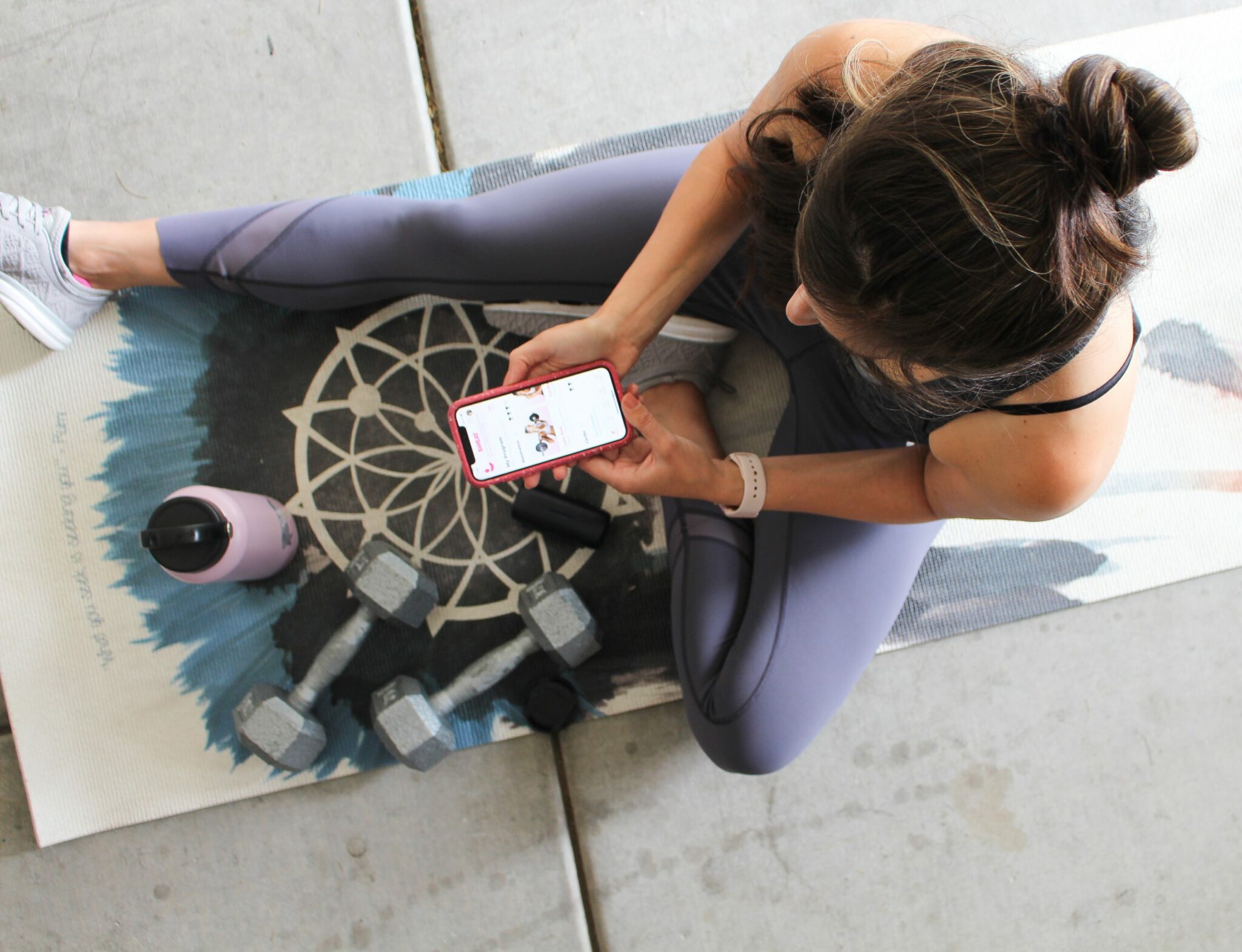 Obé Fitness
I feel like Obé fitness is a great fit for moms because many of the workouts are short and sweet and don't require a lot of equipment. They do offer a free trial, so you can check it out and see if you like it. If you're used to heavy strength training, you may feel like the strength workouts aren't challenging enough.  They have a hub for postnatal workouts and the dance cardio classes are a lot of fun. Cost is $27 per month and my full review is here.
Physique57 On Demand
Physique57 is probably my favorite barre studio of all time. The workouts are so fun and challenging, and they always use a unique combination of moves. They have quite a few options on their Demand platform, and are constantly adding new live and recorded workouts. Check out here! The app is $24.99 a month or $20 with the annual option.
Madeline Moves
While I haven't personally tried her app, I've heard amazing things about it and follow Madeline Moves on Instagram. She's a personal trainer and provides form videos for each of the exercises. There's a guide feature bands and bodyweight, or a gym-based program, using kettlebells, dumbbells, barbells, steps, etc. If you guys want me to try it out and review it here on the blog, I'd be happy to do it! Cost is $20 per month.
Calm
I'm a strong believer that almost all humans can benefit from a meditation practice, and Calm makes this so much more attainable. You can filter sessions by time, choose from instructors, and also listen to sleep stories before bed (one of my fave aspects). The cost for the app is $14.99 per month or $69.99 per year.
Alo Moves
This is a great app if you love yoga. It's not quite as easy to filter as some of the other apps, but it has a solid selection of yoga, strength, and barre-based workouts, along with mindfulness classes. Alo is $20 per month or $199/year. There are some incredible instructors in their lineup, including Harley Pasternak, Eoin Finn, and Danielle LaPorte.
So, tell me friends: what is your favorite fitness app? Do you follow a program or do ya wing it?
if you're looking for a phased plan designed for body composition results, join us in Fit Team! New workout are posted on the 28th of each month (April's went live last night!) and all the details are here.
xoxo
Gina
Source by fitnessista.com