By Caroline Elias | Last Updated: Feb 7 2022
Last year, my boyfriend and I's Valentine's date night consisted of dinner at our favorite restaurant…which we ate outside, in a rickety shack constructed on top of a New York City bus lane.
It was as romantic as you could get in the middle of a pandemic, but I think my favorite part was the immediate change into sweatpants when we got home, and a Bravo marathon spent snuggling with our dogs.
Since not much has changed except the coronavirus variant, we'll probably do the same thing again this year.
Whether you're coupled up or single, leaving the house or binging reality tv at home, I put together a few outfits to help you look and feel your best however you celebrate Valentine's Day this year!
Check out 4 men's Valentine's Day date outfits:
Where to wear it:
Making dinner at home for your significant other
Get the look:
Let's be honest, sometimes the best date nights are those spent at home. And when I'm not the one to cook? A literal ::chef's kiss:: evening.
For a comfortable, yet stylish dinner-at-home look, go for a cozy sweater over a trend-forward t-shirt and comfy cargos.
Yes, cargos.
And I promise, these cargo pants feel pretty damn close to sweatpants. They're that comfortable.
Finish off the look with your favorite pair of low-top sneakers before sliding into house slippers. I've never seen anyone not look good in Nike Blazers.
Plus, they come in tons of colors so you can easily find a pair that fits your personal style.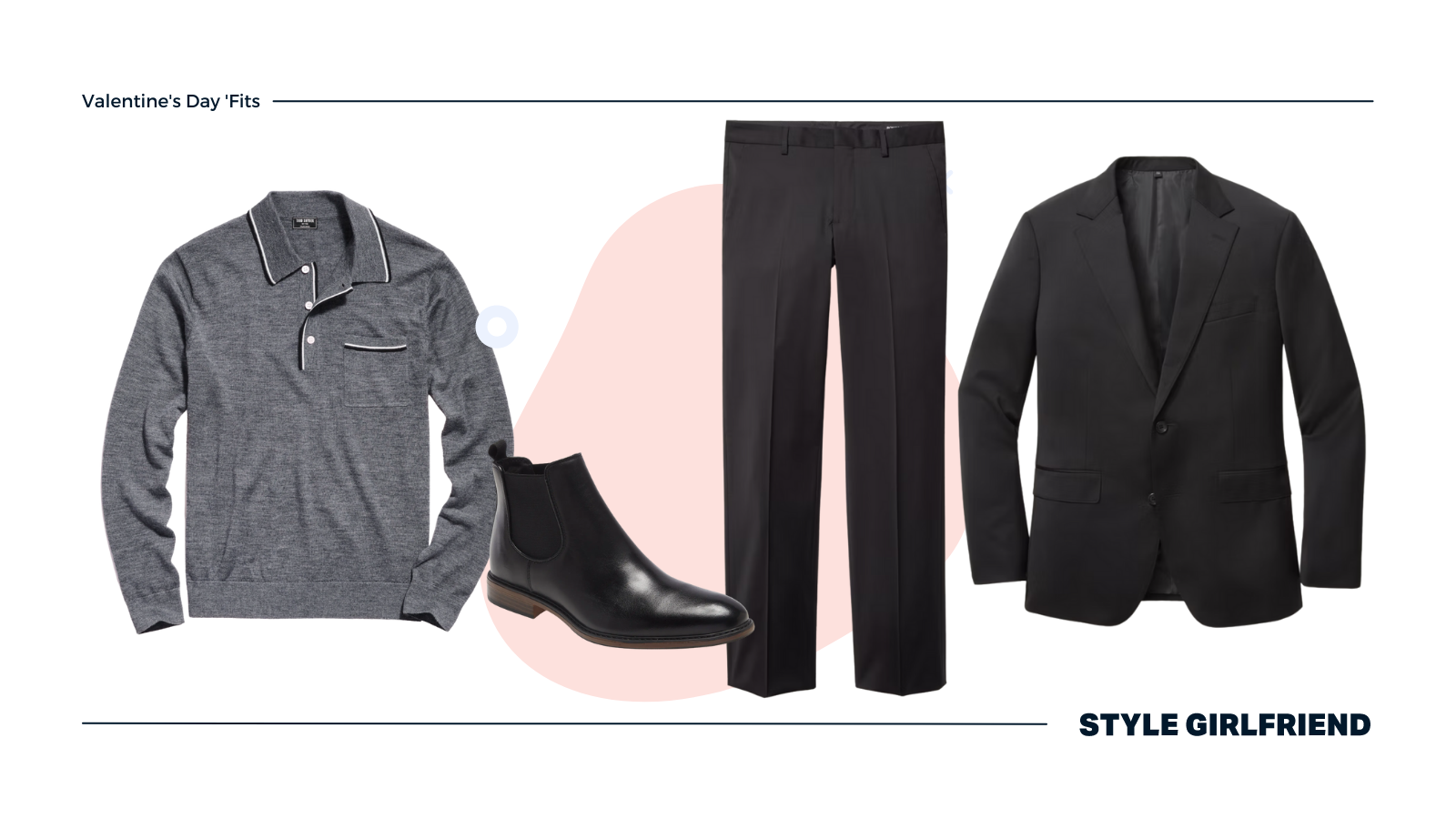 Where to wear it:
A romantic night out with your boo
Get the details:
Why it works:
Hopefully, after two (more?!) years in sweats, you won't fight me on suggesting you dress up in a suit for a special date night occasion.
Since this is a romantic evening out and not a business dinner, skip the dress shirt and opt for a long sleeve merino polo instead. It'll give you a chic, effortless vibe.
Add some Chelsea boots and you're ready to go. These boots from Mason are water resistant, perfect for when you find yourself in a romantic kiss on a slushy street after dessert.
RELATED: 5 Outfits to Wear with Chelsea Boots
Oh and flowers (for her, obvs) always make a great accessory. Tulips are in season right now…hint hint! 
Where to wear it:
A night out with friends
Get the details:
Why it works:
For a night out with friends, think Jacob Elordi in Euphoria, minus the sociopath vibes.
Start with a great pair of black jeans, straight or skinny fit (sorry not sorry, I just can't get onboard with the relaxed fit that's trendy again!).
Add a neutral-hued logo tee…my current favorite is from Kith.
And of course, top it all off with one of Team SG's favorite layering pieces for the season: the shacket.
Shirt jacket, overshirt…whatever you want to call it. It looks f**king cool on every guy, including you!
There are endless options for this light layer. You can go wild with a cool print or fun color, or keep it basic with a more neutral option.
I like this one from Zara as it brings the whole look together and also adds some depth with the plaid print.
Bring the look together with a pair of chunky leather sneakers. These from Zara are a great option because they're only fifty dollars, so you won't feel bad when your feet stick to the floor at whatever bar you end up at by the end of the night.
Where to wear it:
At home, specifically on the couch under a cozy blanket!
Get the details:
Why it works:
You're cozy at home and not mad about it. When it comes to men's Valentine's Day date outfits, a coordinating sweatsuit ranks pretty high up on my list of recs.
So, throw on your sweats, grab a kombucha (anyone else letting Dry January ride?) and live your best life.
Maybe that means watching a movie you've been putting off because who can concentrate on a whole movie these days? Or maybe it's time to update that dating app profile and start swiping!
RELATED: How to Get More Dating App Matches
I know you're at home and you feel like no one is going to see your fit, but what if you end up on a Facetime date at the end of the night?! You just never know, so it's worth putting a teeny bit of effort into your at-home look.
My current favorite is this set from H&M because it's already a matching two-piece set, and it's only $39.
It comes in grey and black, so get both if you're ready for twice the cozy. I went with the groutfit (all grey outfit, natch) because I already own too much black and am trying to branch out…for me and for my clients.
Throw on your favorite pair of slippers, I recommend this Nike pair, which I recently bought for my boyfriend. He has not taken them off…partially because our dog thinks they are his toys, but I really think he loves them too.
Plus, the soles are outdoor-friendly too for your early AM coffee run the next morning. Throw on the new socks that your mom got you for Christmas (I know she did, because mine did too), and a beanie to really cozy up. 
Ready to go beyond men's Valentine's Day date night outfits?
Let Caroline shop for you!
Book a virtual styling session today.


Source by stylegirlfriend.com