By Megan Collins | Last Updated: May 30 2022
Chinos are the definitive antidote to complaining that jeans are "all" you have to wear.
So, when you want getting dressed to be easy, reach for chinos!

They're so easy to swap in as a substitute, and they'll put you leaps and bounds ahead of your boringly bottom'd brethren.
They're just as "neutral" as denim, and truly super-wearable.
Below, everything you need to know about how to wear chinos: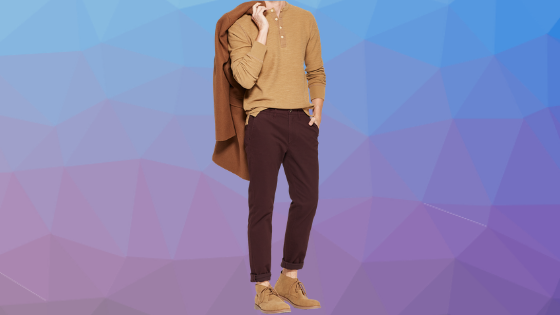 What are chinos? Are chinos different than khakis?
First, let's start with some terminology. "Khakis" aren't pants. Khaki is a color.
When someone says khakis, what they're really talking about are chinos. A simple casual, cotton pant that exists in the middle ground between jeans and dress pants.
Think of chinos or chino pants (we'll use them interchangeably here) as the oxford shirt of pants—versatile enough to be dressed up or dressed down, and always in style.
For example?
Khaki chinos are chino pants that come in a tan (khaki) color. Burgundy chinos are chino pants that come in a burgundy color. And so on.
Chinos are dresser than five-pocket twill pants, which look pretty much exactly like jeans except for the material.
But! They're not as dressy as dress pants, which usually have a tab waistband closure and are made of wool, or some other fancier material.
How chino pants should fit
Remember those wide-legged chinos that literally all of us (guys and girls alike) wore growing up? The ones that made us feel like the fourth member of Blink 182 and fit like your favorite pair of JNCO jeans?
Yeah, we're not wearing those anymore.
Cut and fabric are key to versatility when it comes to chinos. Look for a chino with a medium rise, not too high or too low. Flat front is a must (aka, no pleats!!), and make sure the seat of the pants fit close but not too tight. 
And about your backside? A close-fitting seat is the cure for "dad diaper butt." 
Brands have been built to address this scourge on men's style; don't be a victim of it yourself. Us ladies want to see your cute butt as much as you like to look at ours, so a shapeless, sloppy backside is a definite Don't.
Make sure the leg is tailored close to the body, and the length falls somewhere between the top of the shoe and the top of the heel. Stay away from chinos that are too washed and distressed as this makes it harder to dress them up.
Shop the best chinos for guys
Of course, there are so many options out there for chinos for guys that shopping can feel overwhelming.
But don't despair! Our team narrowed down your options for you. Shop our #SGapproved chino pants picks, below:
J.Crew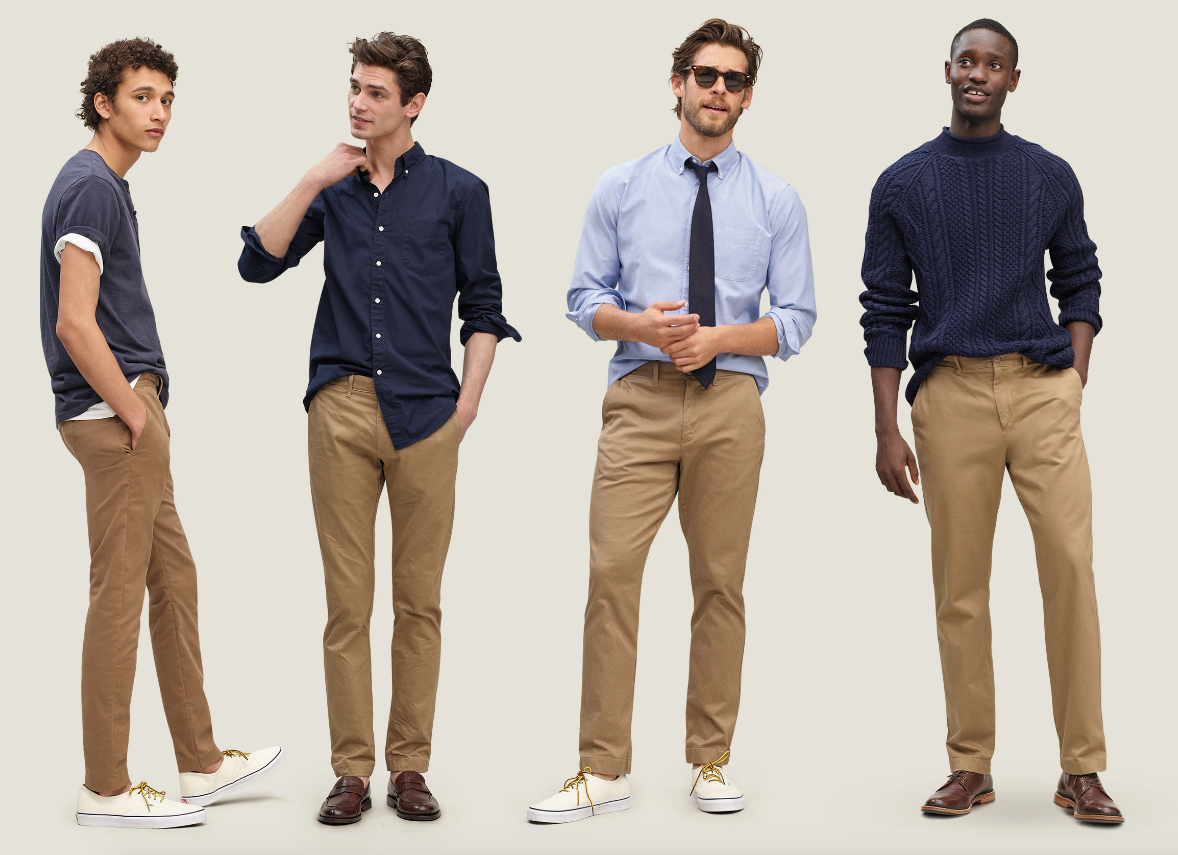 Why they're great: J.Crew is affordable (as affordable as makes sense…you want these things to last through quite a few spin cycles!) and high-quality. The brand also offers several fit options and come in a range of hues, from neutrals like tan and navy to more interesting colors.
Styles to choose: The 484 slim-fit pant is great for guys with a "typical" build, while guys with bigger legs should opt for the 1040 athletic-fit style.
Bonobos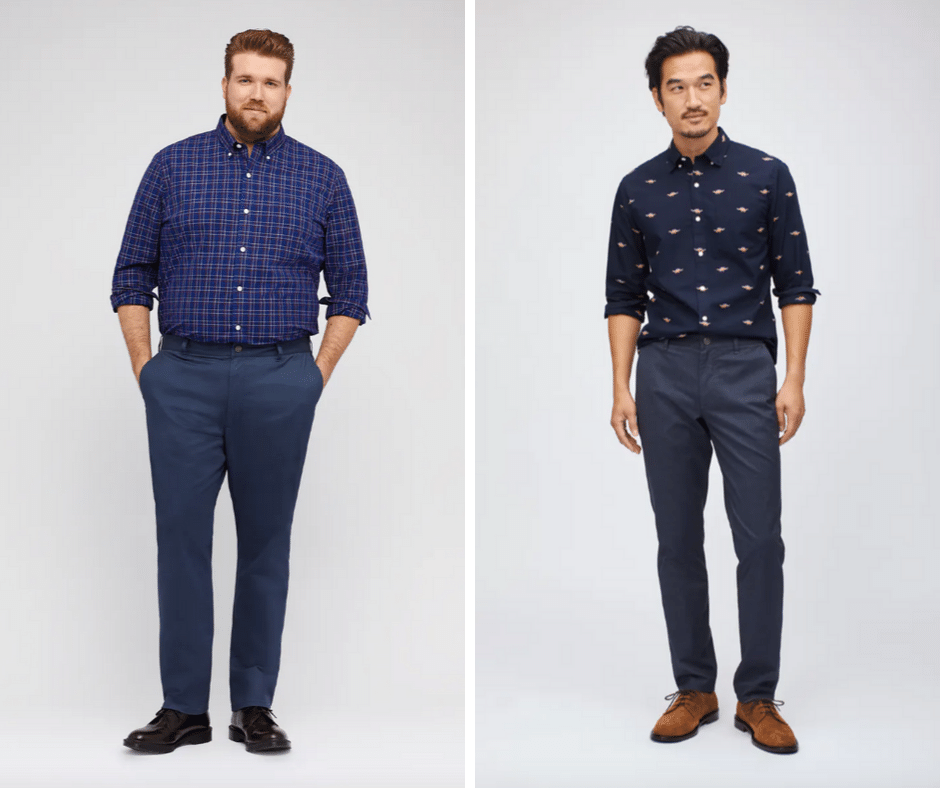 Why they're great: Relaxing enough for the weekend, but still appropriate for a corporate casual dress code, Bonobos is a great option when you're able to spend a bit more money.
Styles to choose: The chinos are available in up to five fits: Skinny, Tailored, Slim, Athletic, and Straight fits. They also offer extended sizes, which is great for a big & tall shopper.
Carhartt WIP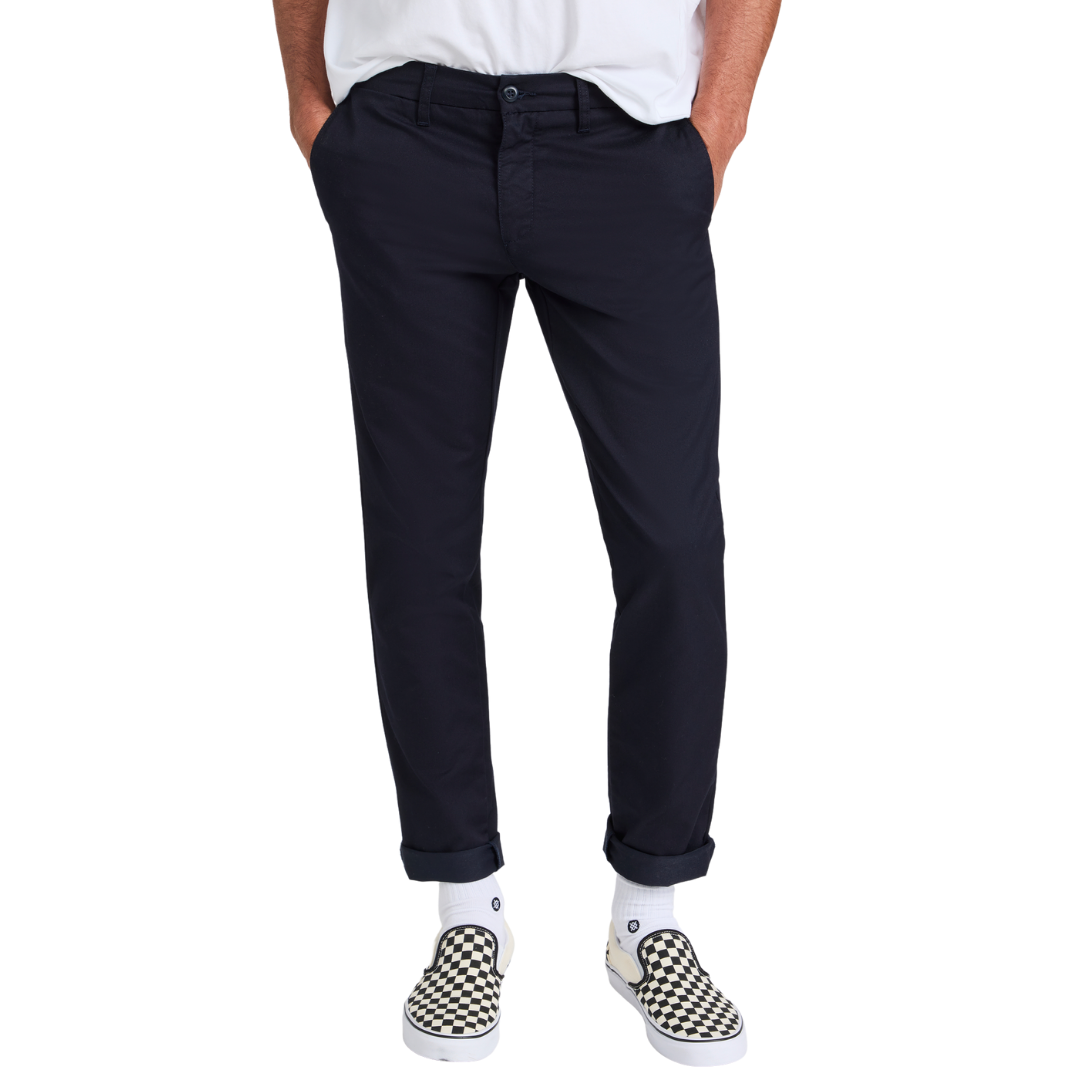 Why they're great: We love Carhartt WIP for its function-meet-fashion vibes.
These heavy twill, straight leg pants make for a high-quality chinos for a cool-yet-casual guy.
Styles to choose: The Sid Pant above. For a modern (aka slim) fit, buy your normal size. For a more classic fit, buy a size larger than your normal size.
A.P.C.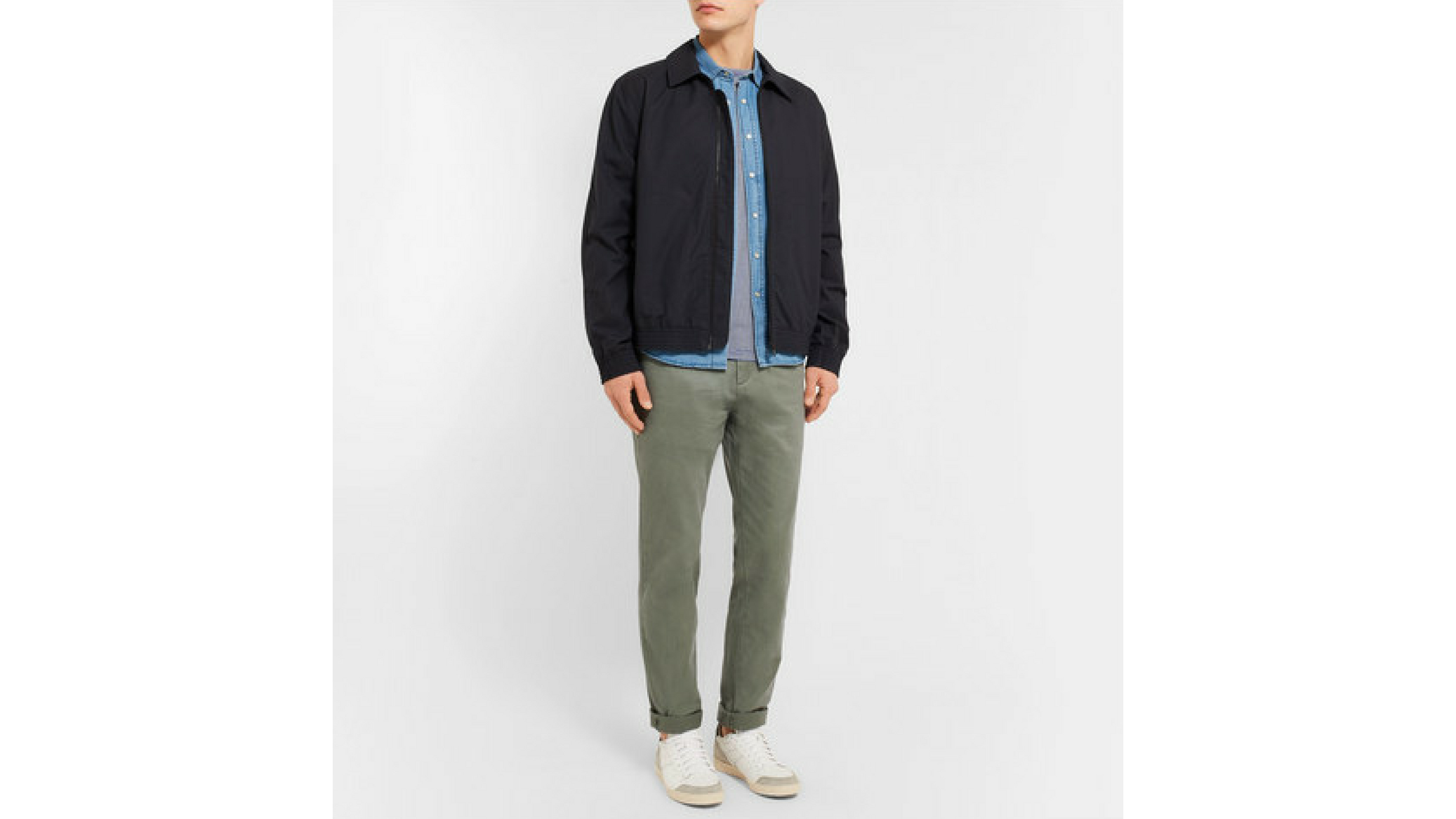 Why they're great: The editors over at GQ put it best when they (also!) included fashion industry favorite A.P.C. in their "best chinos" roundup:
"A.P.C. gets a lot of shine for its denim…but it's 2019 now, the Golden Age of Pants, and a man can't live on raw denim alone. As it happens, A.P.C. makes a near-definitive version of that other most essential of men's bottoms—khaki chinos…Add to that a pretty reasonable price—from a cost-per-wear perspective, anyway—and you've got yourself a baseline against which all other khakis can be judged."
Styles to choose: Go with the classic chinos. They've got a straight cut and become slightly fitted at the bottom of the leg.
Interestingly, A.P.C's chinos are made of cotton gabardine, a water-resistant fabric often found in raincoats.
***
The best colors for chino pants
Thanks to a very traumatic incident in my teens, I have a personal aversion to light, sand-colored chinos.
In the spring of eighth grade, I borrowed a pair of Gap chinos from my friend Kate. I wanted to wear them to graduation rehearsal at the church connected to our parochial school. Wide-leg with that useless hammer loop that no middle schooler needs, and stone-white, these pants were the coolest.
Sitting in a pew, waiting for my turn to walk up to the altar to fake-receive an invisible diploma from my principal, I suddenly realized I'd gotten my period for the first time.
Not wanting to call attention to the…situation, I yanked my sweater down towards my shoelaces. Then I walked up in front of my entire class, and accepted that invisible piece of paper with a firm handshake and pained smile. Thankfully, a clean pair of jeans sitting in my locker saved the day. Literally.
The whole experience felt (probably?) a lot like getting a boner during a spelling bee—you know it's not your fault, that your body doesn't mean to betray you in front of all your pubescent peers…and yet you still want to go home, hug your parents goodbye, change your name, and move out of state, never to return again.
Of course, men almost never ruin a light-colored pair that way!
So, if you're all aboard the chino train, start with a tried and true khaki color.
Then, move onto other neutrals like olive, navy, charcoal, and even black.
From there? Don't be afraid to experiment! Warm weather is great for lighter shades from salmon to sea breezy blue, while the colder months offer up the chance to wear darker shades like aubergine and rust.
How to wear chinos in your wardrobe
Like jeans, you can dress chinos up, or dress them down. The beauty of a great pair of chinos is that they go with literally everything.
Get preppy with a white dress shirt, navy blazer, and tie. Go for that simple Scandinavian aesthetic with a pocket tee and fresh sneakers.
You'd be hard pressed to come up with an outfit that a great pair of chinos won't complement. We'll share some outfit ideas below to hopefully inspire you!
SG Says:  Joggers are another great alternative to jeans. There are even jogger pants made out of chino material out there! You can read more about this athleisure trend here.
Styling tips for how to wear chinos
Avoid pleated khaki pants and opt for a more fitted style to avoid looking dowdy.
Don't know what to wear? Reach for an oxford cloth button down and a cardigan in an eye-catching color or pattern. If you're wearing chinos with a tie, be sure to tuck your shirt into your pants.
Chinos and sporty vests go together like peanut butter and jelly. Don't be afraid to wear a fun pattern like the one below!
If you're going to wear a belt, be sure it goes with your shoes. They don't have to be the exact same color, but they should be in the same family (say, a maroon braided belt with brown suede chukka boots).

Outfit Idea: Khaki-colored Chinos
SG Says: Easy, peasy, right? The fun pattern on the fleece keeps the whole look from being too oatmeal-y.
Outfit Idea: Olive Green Chinos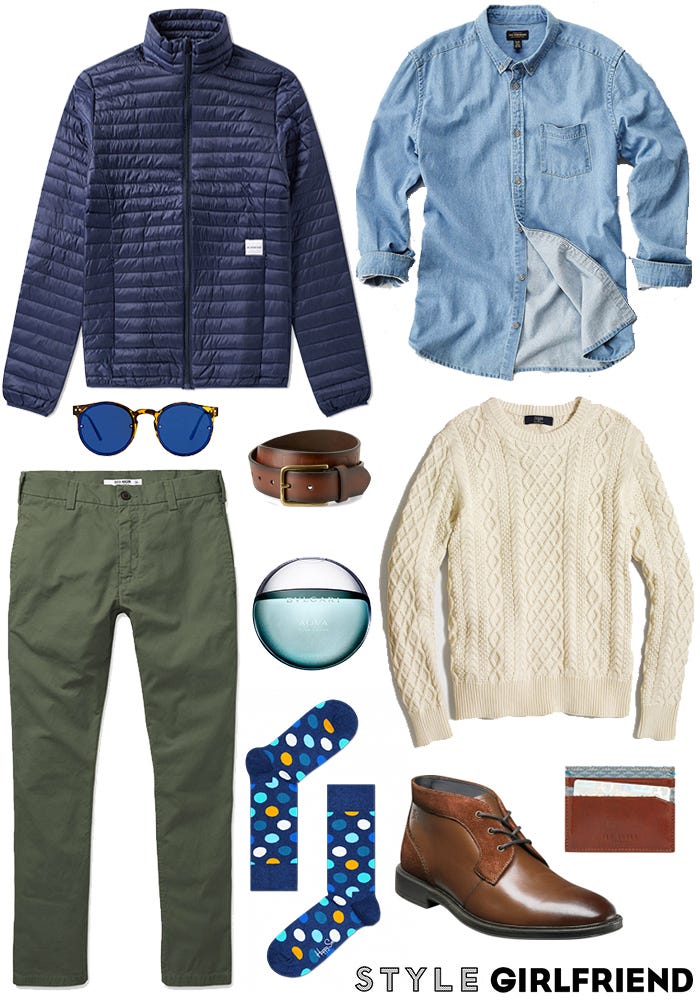 SG Says: You can swap in olive green, or its more military-inspired cousin, army green, to any outfit that usually showcases denim.
The muted tone of olive green chinos makes them the ideal substitution for jeans or even your tan-colored chinos.
Why? Because you can style them as you would any neutral wardrobe staple. Want to pump up this color even more? Swap a swatch of olive green for an equally easy-to-wear camo print.
There's something so manly yet dapper about olive green…especially when you see this color paired with cozy basics in cooler weather.
Outfit idea: Bright-colored chinos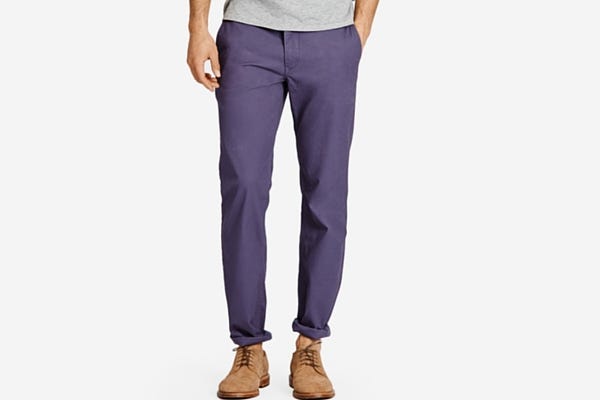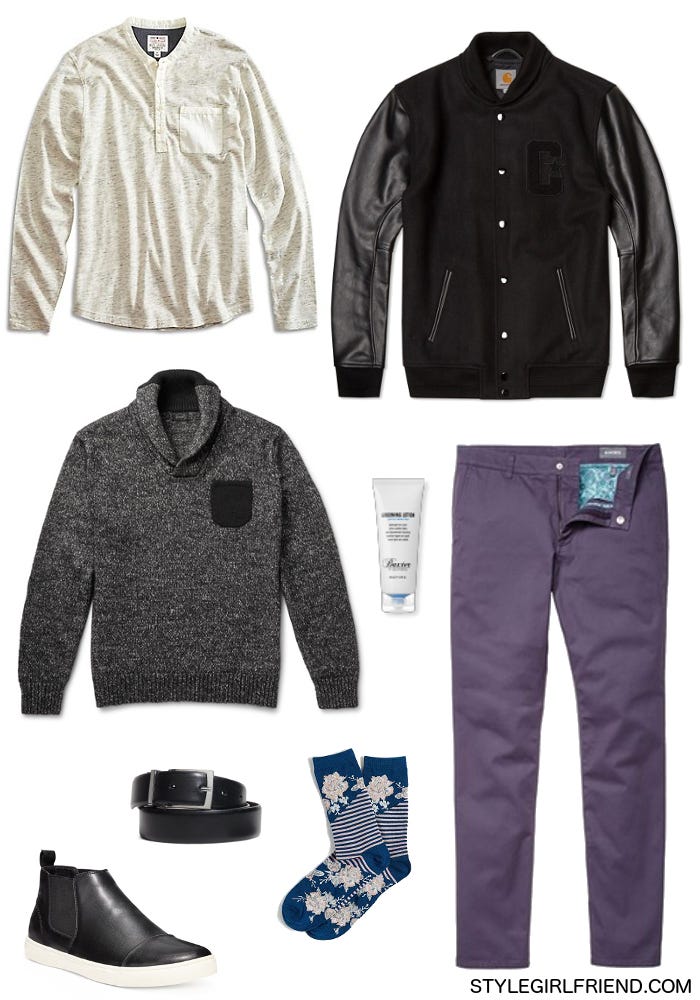 You can choose a bright-colored pair of chinos anytime. We especially like them for guys during the winter months when so many wear dark colors all the time.
Stick to rich, jewel tones (i.e., save the pastels for summer), and pair your pants with long sleeve henleys and sturdy outerwear. Weave in neutrals like grey, black, and navy to keep things from looking crazy.
When going for a bold-colored chino, make your pants the focal point of the outfit by pairing them with neutral pieces or tying the color in small details throughout the look.
Worried about looking like you've got the jump on spring or summer? Keep your winter hues to jewel and earth tones: turquoise, eggplant, forest green, brown, grey, burgundy..
Unless you're making a point to color block or go all monochrome, it's easiest to pair a bright color with classic wardrobe staples like solid henleys or sweaters.
Add a bit more visual interest to this look by keeping your jacket unbuttoned and henley peeking through.
Want to make this look work in the office? Swap the henley for a button down and the sneakers for brogues. Then, add a knit tie and mesh metal watch.
How to wear your chinos cuffed or rolled
There are plenty of ways to show off your own unique sense of personal style when it comes to your outfit. Those little tweaks that set you apart and make you stand out (in a good way!) from your fellow students or workplace peers.
A rolled cuff is one such stylish detail. If you don't believe me, head to J.Crew, where I found the torso-less legs above. Approximately 99.99% of the models sporting chinos are flashing some serious ankle.
It's not that you have to cuff or roll your chinos to look cool, but you certainly shouldn't be afraid to at least try it. As the folks over at The Idle Man put it, "You'll be surprised how drastically this can change up a look and give it new dimensions."
1. Fold vertically, then horizontally.
No need to peg your pants, but if you don't tighten the cuff a bit, you'll never get the rolls to stay. Take the fabric at the inner ankle between two fingers and fold over itself, about an inch to two inches, depending on how wide the pants are.
2. Roll once or twice, but not more than three times.
We're going for rolled pants, not capris. This isn't Europe.
3. Rough it up.
The look should be a little rough, as if you quickly rolled up your pant legs before disembarking the schooner you sailed in to your private island. Casually elegant, you dig? Yes, you have to spend a little time perfecting the "I didn't spend any time on this" look. But it will get easier.
3. Wear with a casual shoe.
This advice actually stands whether you're rolling your pants or not. Chinos are not to be worn with an uber-dressy shoe. Personally, we like a nice low-top Chuck for this look, though chukka boots or a boat shoe would look nice, too, depending on the season.
When to roll your chinos
Sure, it's easier to justify flashing some skin in the warmer months, but don't be afraid to roll your chinos in the winter as well. Just add a tall sock instead of a no-show one. Just like it's fun to see a glimpse of a colorful sock when a man crosses his legs in a suit, seeing some of your sock when you roll your chinos is a good look, not a faux pas.
But remember, guys. (1) you're going for easy breezy, not military precision in your cuff. And (2) don't cuff them too high: Us ladies want to see ankle, not calf.
How to wear khaki shorts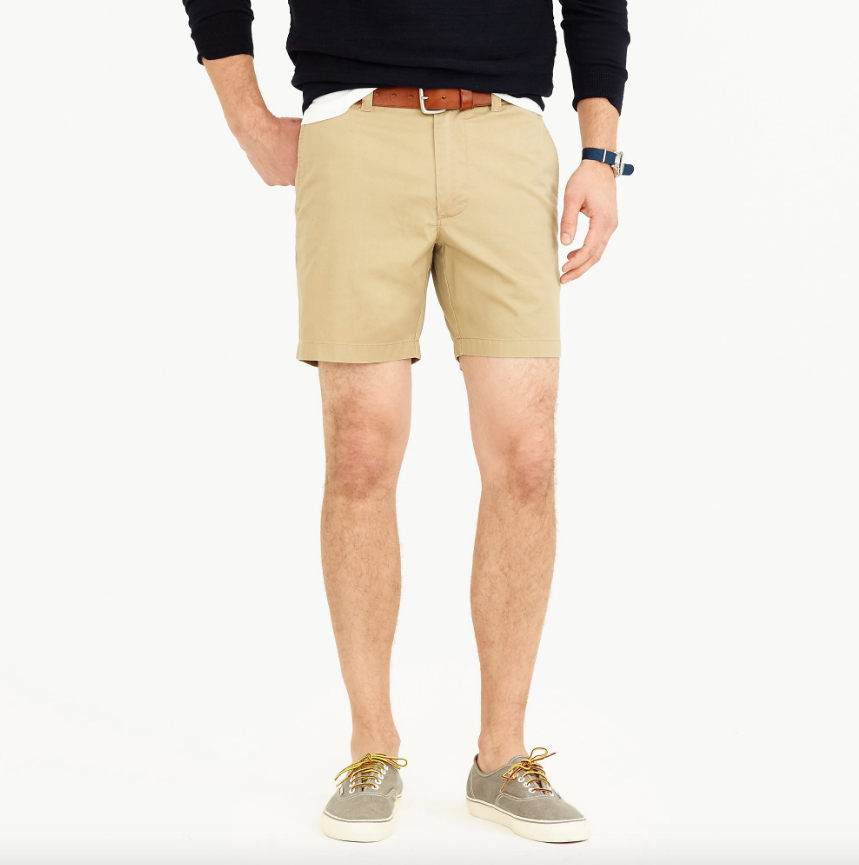 Chino shorts are a great option for warm weather. Head to this 5 Days, 5 Ways feature for stylish outfit ideas!

Best chinos for different body types
Ultimately, the best chinos for your body type are the ones that you try on and make you feel like a million bucks.
That might mean a little time spent shopping, but we've (hopefully!) made things easier with our shopping picks in this article.
How to wear chinos with the right shoes

The image above from Effortless Gent does a great job of showing you the variety of options you have when it comes to shoes to wear with chinos.
With a more dressed-down look, it makes sense to go with a sneaker – personally, I'm a sucker for a really bright, colorful low-top with an upturned cuff (like this) which adds a really modern vibe, but you could also go with something a little more on-the-nose, like a lace-up canvas sneaker or a boat shoe.
If you want to dress up your chinos, a loafer or desert boot will do the trick.
Shop #SGapproved shoes to wear with chinos:
Are you caught up on the latest wardrobe essentials? See how to style your wool dress pants, navy grenadine tie, navy blazer and OCBD shirt. 
***
Ready to update your wardrobe? Team SG can help!
So, if you're ready to invest in your personal style but dread the thought of shopping…let Team SG create a personalized style plan for you!
If you're ready for a style upgrade that'll seriously improve your closet and your confidence, give us a shout.


Source by stylegirlfriend.com