Remember Bollywood Holi anthems Rang Barse Bheege Chunarwali to Balam Pichkari Jo Tune Mujhe Maari? There is hardly an Indian or NRI who can't remember these playful-and-flirty songs on the eve of Holi. Nothing can wash away the magic and enigma of the whitest white salwar kameez and dupatta for ladies and almost doodh-colored kurta pajama for men. That is when the fun starts and real-time. Plus it is a perfect example of Holi outfits and styling ideas as well.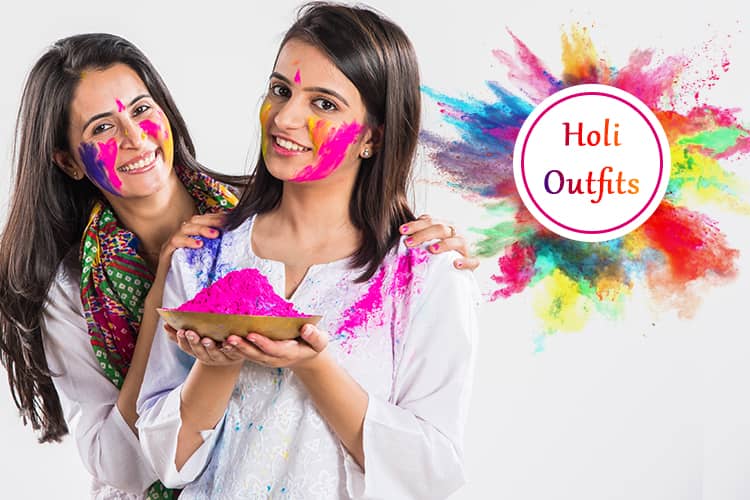 We all know Holi is a festival which brings back the color in our lives after the dull winters. Fashion-wise, Holi uplifts the spirits in the following ways – through Holi festival dress code, cute hairstyle for Holi, accessories to wear on Holi and footwear for Holi. Do you think perfumes are required when everybody is looking at a chance to smear gulaal on you? Nah…but yes some amount of makeup can do on the day of Holi if you want to look your saucy best.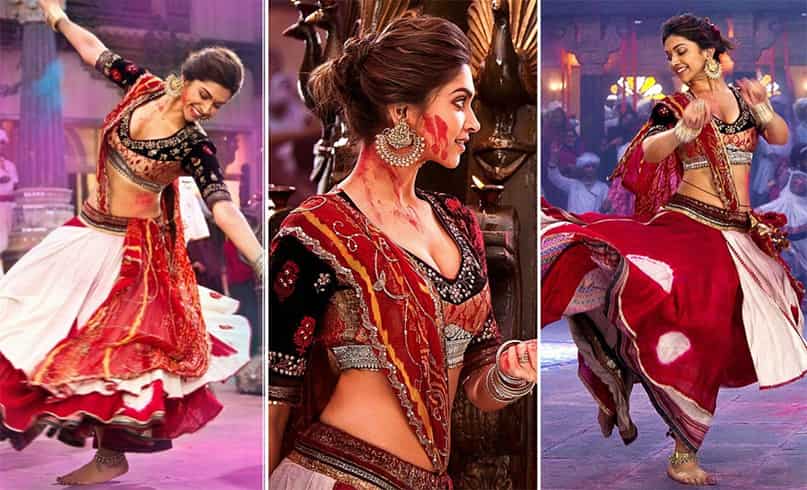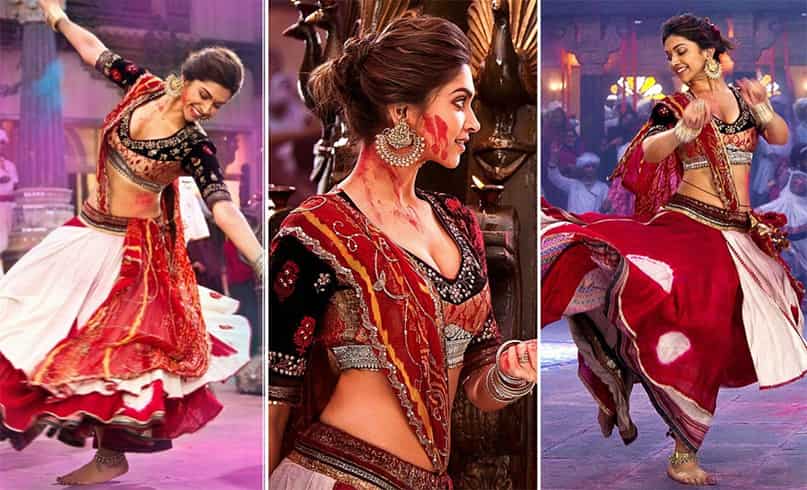 Source: simaayafashions.weebly.com
Since Holi is there, so is the need for style inspiration. To help you decide on outfits and styling ideas, here are some interesting tricks and tips for dressing stylishly yet comfortably.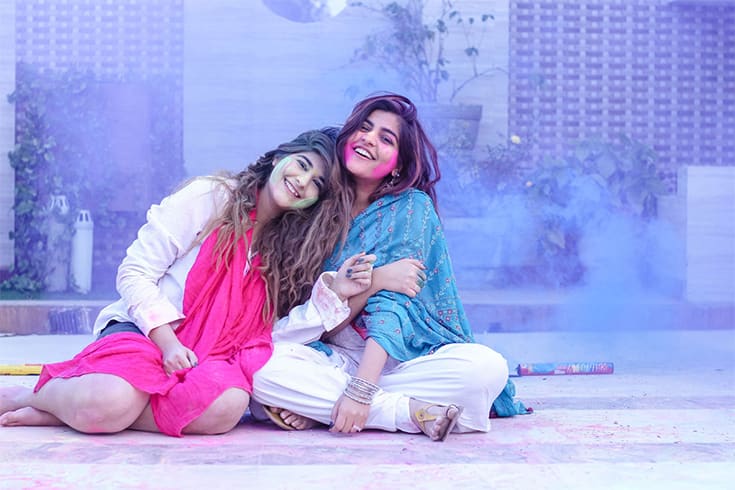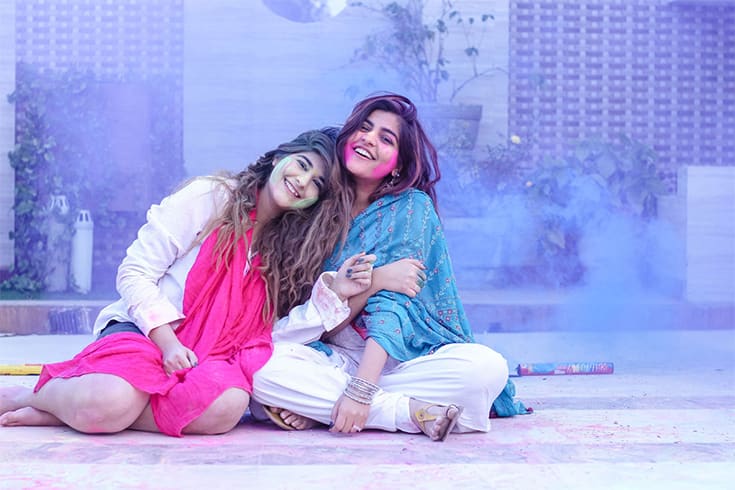 Source: thatbohogirl.com
Style Inspo For Holi:
For those of you who have a liking for comfort dressing, why not take some style inspiration from the gorgeous Deepika Padukone?
What do you have to do then?
Turn into a hottie by sporting a vibrant tee with a pair of hot pants, the way she did in the song 'Balam Pichkari'.
Want to add a little twist to this Holi festival dress code?
If you think Holi is not the time to flaunt your long legs then team a tee with some comfy pajamas. This will help you safeguard your skin from the onslaught of stubborn colors. You will thank us for this style tip that will help reduce your bathroom struggles to remove all those color stains.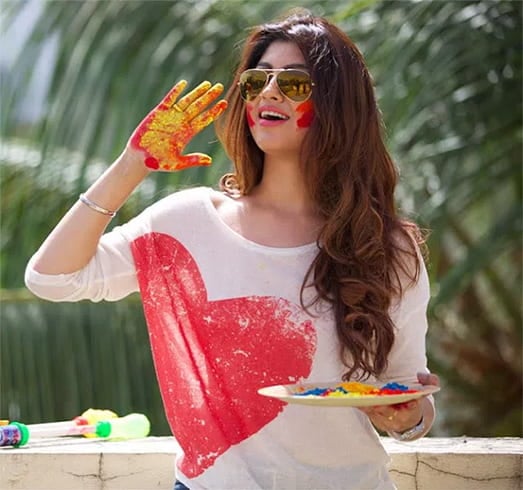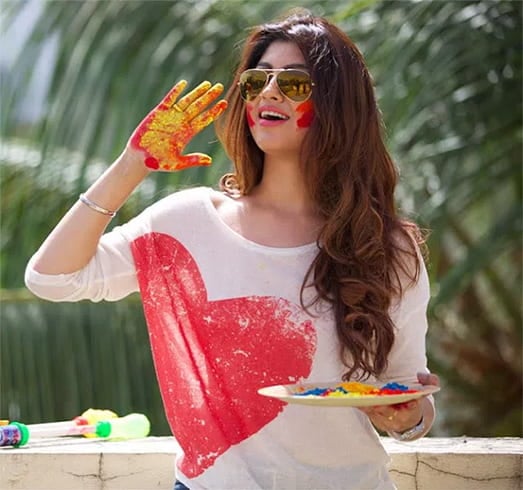 Source: makeupandbeautyblog.in
Words of wisdom for you –
Avoid wearing transparent and clingy clothes on Holi because you are sure to get wet and feel uncomfortable.
Best Fabric For Holi:
Undoubtedly, it is cotton. It keeps you cool while enjoying the outdoor fun that the festival brings. For Holi, you can dress up in a vibrant cotton dress that is rich in hues and prints to add that dash of vivaciousness to your festive celebrations. The Holi outfit of Alia Bhatt in '2 States' is a perfect example of flaunting the Indo-western look or you can don a vibrant skirt with flares and still look dazzling. But if you want to minimize the damage to your skin due to the chemicals and tan, then without a second thought go ahead and pair linen pants with a short kurta or a palazzo with a long kurta. Make sure you pick a top that has full sleeves.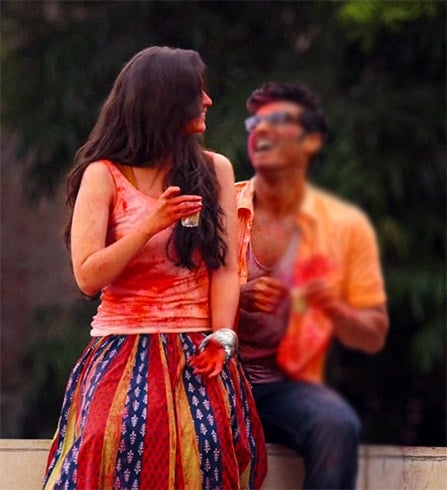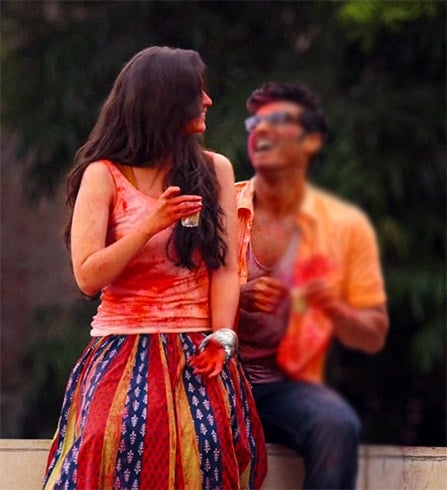 Source: fasheo.com
Chikankari and Holi?
Ah, that is making an impressive statement. A white chikan kurti when paired with jeans looks fabulous and so perfect for college Holi functions, doesn't it? Ask Dia Mirza.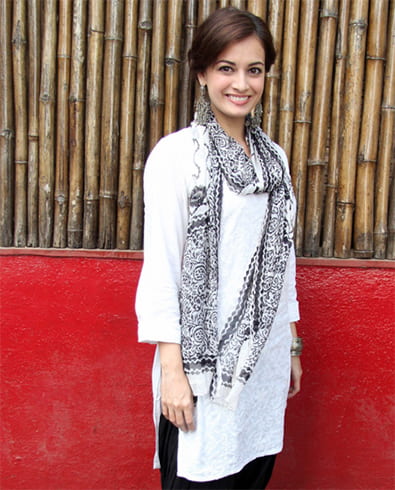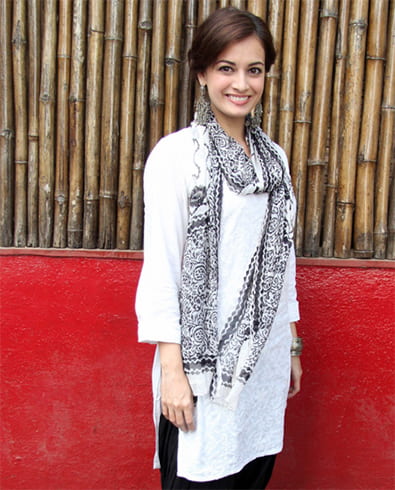 Source: darpanmagazine.com
You think I am going to miss out on a Patiala Salwar Suit for Holi festival dress code? Certainly no.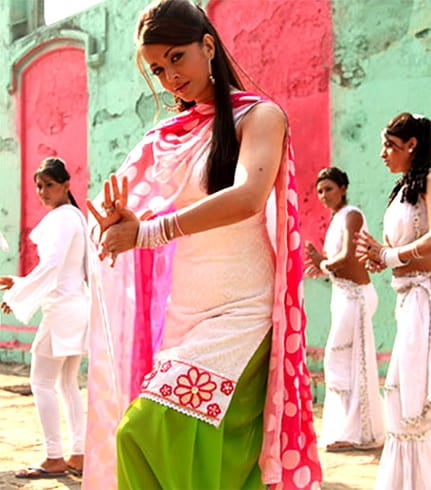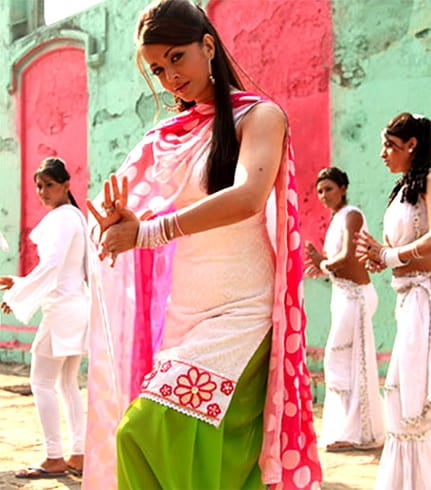 Source: bollywoodlife.com
And then there is a colorful Tank top and ethnic skirt. A trendy Holi outfit, with a touch of tradition. In doing so, accessorize this dress with colorful bangles and funky jewelry.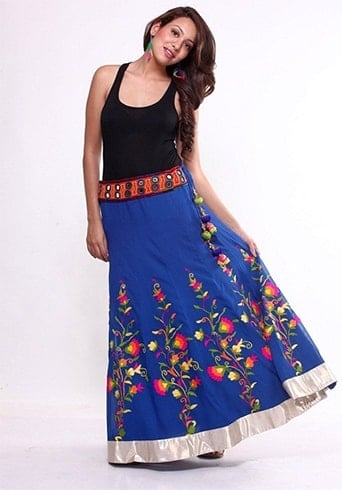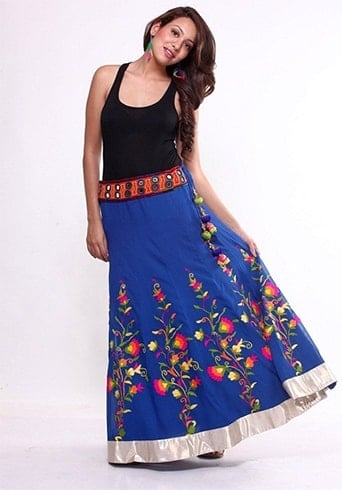 Source: beautifulhameshablog.com
Ethnic Wear For Holi:
If ethnic wear is your calling for festive occasions then go the Bollywood way by opting for an all-white ensemble a la Rekha in the song 'Rang Barse'. It is an evergreen trend that will make sure that you look your stylish best!
And what is that? Wear a crisp white chikankari kurta with the staple leggings. Want some more twist? Pair the white kurta and leggings with a colorful bandhani print dupatta.
[sc:mediad]
White outfits work as the perfect canvas to paint the town red on Holi with friends and family. You can even opt for a white kurti and pair it with jeggings.
Want to take it one step ahead?
You can just add a colorful tie-and-dye dupatta or scarf to add that dash of colors to your classic wardrobe choice and use it to protect your luscious locks too.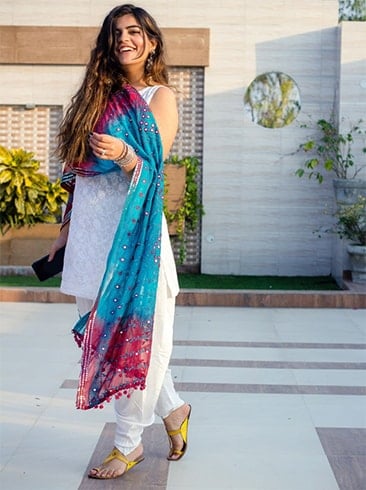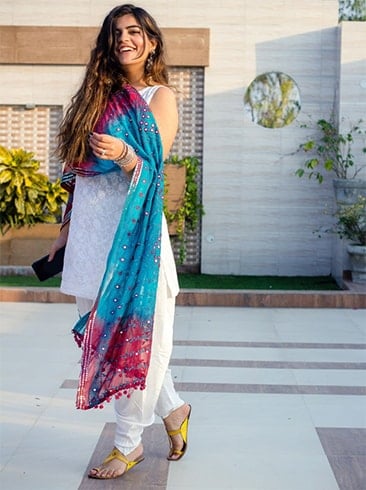 Source: thatbohogirl.com
Accessories For Holi:
Holi fashion demands a twist. You have to get messy with colors and water at the same time look your stylish best. And accessories to wear on Holi have lots to do to help you nail the look. Here's how:
Caps and Bandanas: Take your family and friends by surprise when you wear the best headgear (either a stylish cap or a printed bandana) with your attire this Holi. It is a hep way to style your outfit. Plus you end up protecting your hair as well.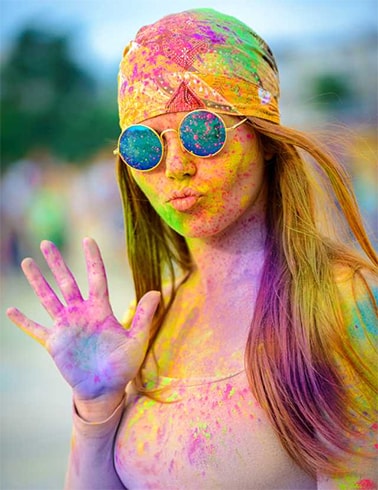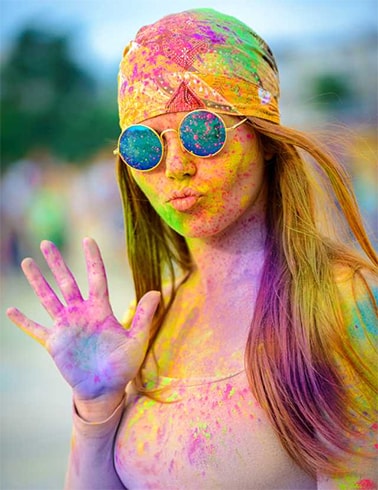 Source: femina..com
Sunglasses: You can't go color blind on Holi but you can certainly add that extra glamour to your attire by wearing sunglasses. Look a star at your Holi party by wearing one of those awesome sunnies. Going for the classic aviators will certainly help you steal the limelight. Also, when you wear sunglasses while playing with color on Holi, it makes sure your eyes are protected from the harsh chemicals.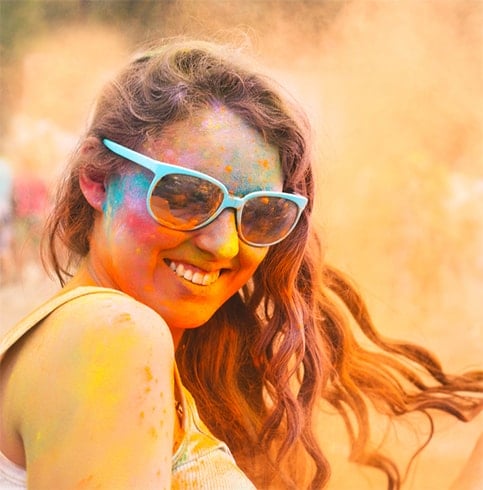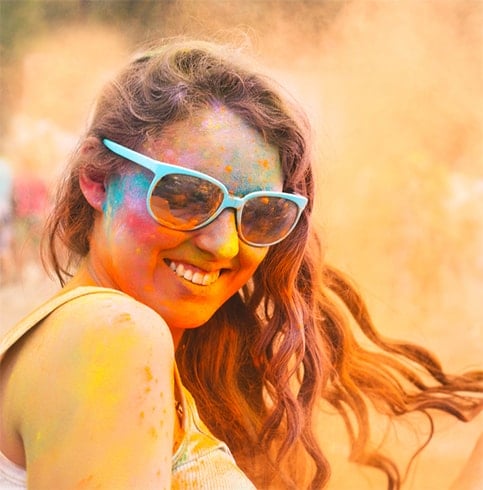 Source: penguinindiablog.wordpress.com
Flip flops: For the playful festival, are you going to wear one of those fancy sandals or pumps? Don't do that. Holi is that one festival that gives you a chance to wear and show off your footwear for Holi. So do that by wearing flip-flops in public. Just pair them with your funky clothes and complete your Holi outfit. Other footwear options include sneakers, floaters, ballerinas, loafers or simple slippers.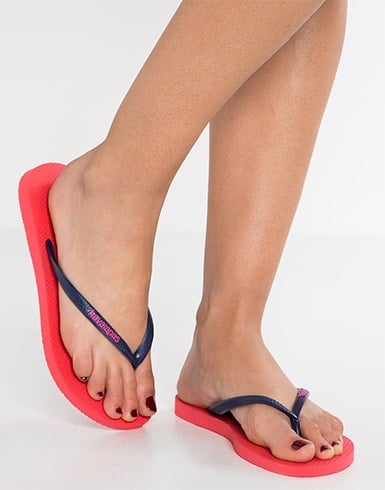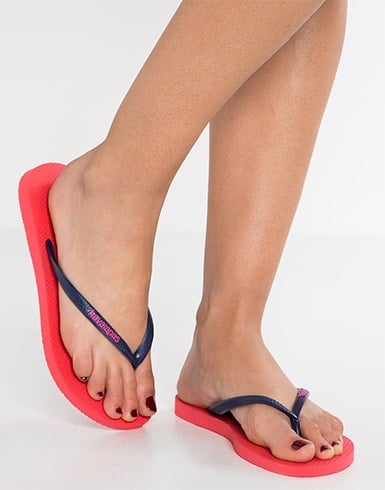 Source: pameldred.com
Denim Shorts: Supposing you don't want to go the traditional way this Holi. Be a smartie by wearing denim shorts and a nice white top or a t-shirt. Complete this look by wearing a bandana and flip-flops.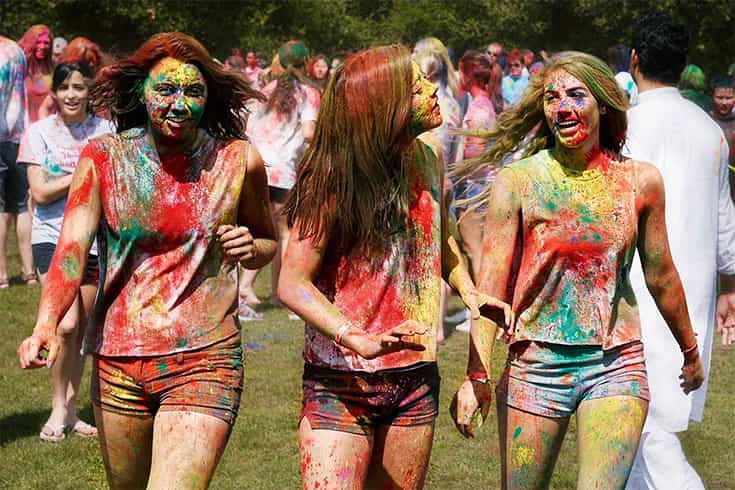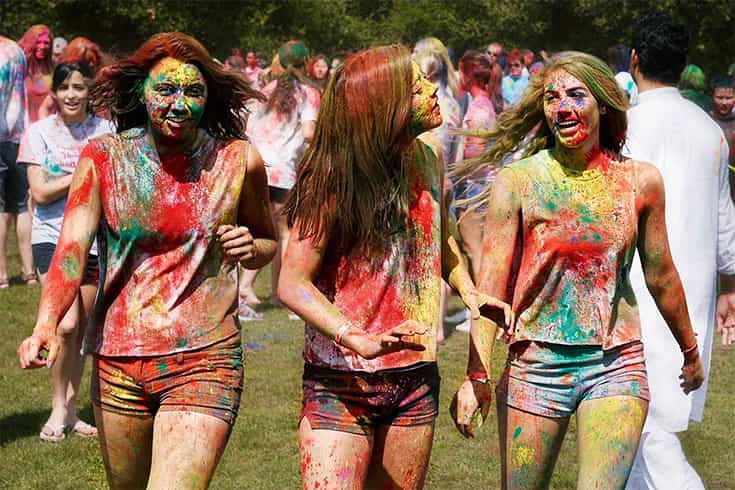 Source: duexpress.in
Hairdo for Holi:
Shield and protect!
This will always be the mantra for your hair on the occasion of Holi. To do so, moisturize your hair with coconut oil beforehand. Bring out the hairstylist in you and go for a braided bun or a double French braid tied into a high ponytail. It is the best and most stylish way to save your tresses from the onslaught of colors and chemicals.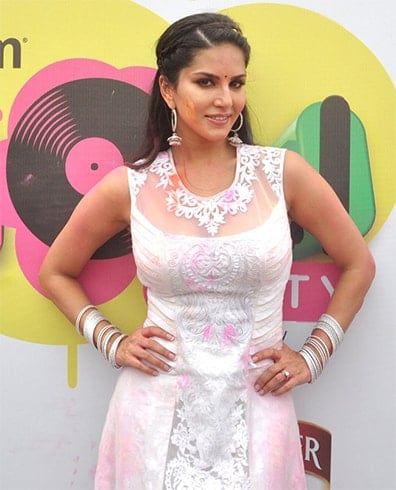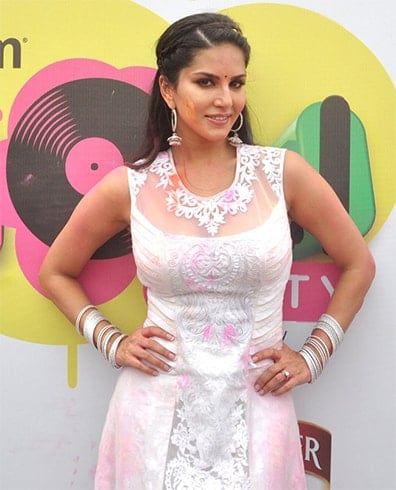 Source: mid-day.com
Nail Art for Holi:
To shield your nails from Holi colors, paint them with some bright hues. They can be bold and contrasting colors or a nail art design inspired by Holi. Add the splash of colors to your nails by using some vibrant shades rather than let the chemical colors play havoc with your manicure.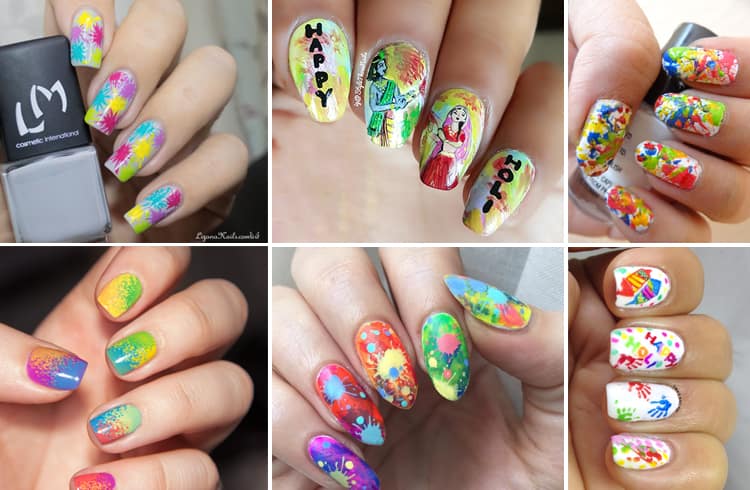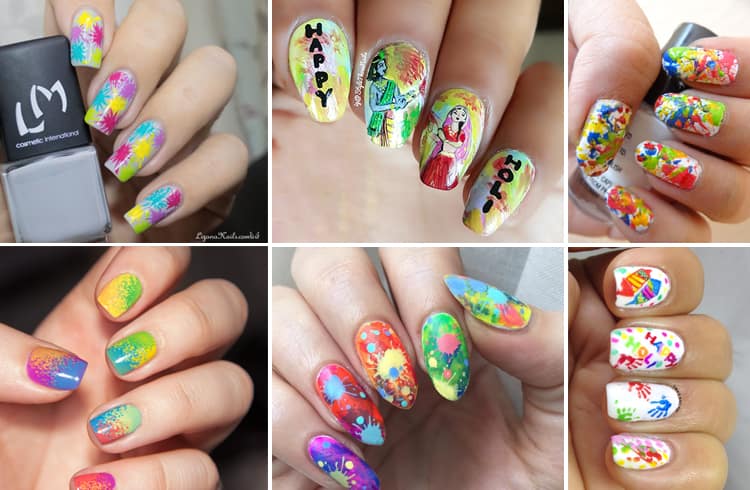 Now that I have shown you good possibilities for Holi outfits and styling ideas feel free to follow them. Don't be shy, rather go out and get drenched in the colors of joy which come only once a year. Happy Holi to all you readers and your family members!
Source by www.fashionlady.in