Discover the various types of pants. Coco Chanel introduced trousers as a fashion statement into the world of haute couture.
Since then, many different types of pants and trousers for men and women have entered our wardrobes. in this blog, you will learn about "How many types of pants are there"?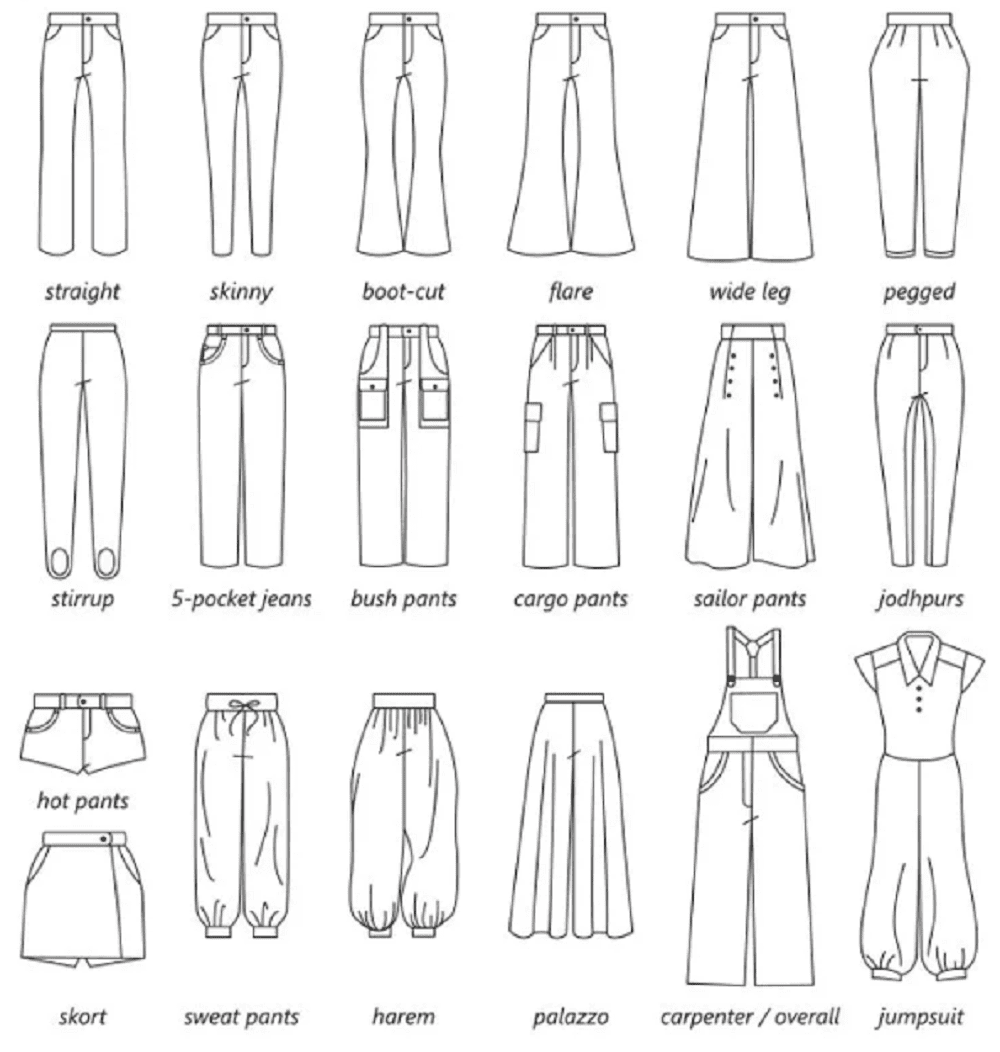 Furthermore, Depending on the definition, there are between 12 and 16 different types of trousers. based on factors such as the material used, design elements, fit, and occasion.
Classics such as jeans, chinos, and sweatpants, as well as the numerous variations on dress pants, will be familiar to most men.
TYPES of pants are there is
Leg opening
The opening at the bottom of the trouser leg. The hem can be flared, straight, cropped, turned up, or plain.
Side seams
Can be plain stitched or topstitched and are both functional and decorative.
Fly or zip opening
The front fly opening can be fastened with a zipper or buttons. If the trousers are elasticated at the waist, a fly may appear as a false effect.
Pockets
Pants have back, seam side, and front pockets. Jean pockets are typically top-stitched for visual effect.
Waistband
The band that holds the trousers in place at the waist. It frequently, but not always, has belt loops.
Different waistband heights can sometimes alter the style and cut off the pants. High-waisted pants are one example.
Low-rise jeans
The rise is the distance between the crotch and the waistband.
It measures between 7″ and 12″ and determines where the pants will sit.
As a result, low-rise jeans are low-waisted, whereas high-rise jeans are closer to the waistline but not on the waist.
The yoke
The shape cut and sewn at the back of jeans, them their distinct cut and style. Palazzo pants may have a yolk across the front, but the yolk is typically part of the back.
The crotch
It is the curved seam that begins at the front waistband and curves around to the back.
Some pants styles have a lower or cross-cut crotch seam.
This type of crotch seam is seen on Harlem pants.
Belt loops
Let the wearer loop a belt around the waist to keep the pants in place.
The bottom hem
completes the look of the pants. It could be a plain hem, a turn-up, gathered onto a band, or pegged with a tuck.
14 types of pants are there?
Here is a comprehensive list of the various types of pants. Pants have become a popular choice for formal occasions, casual wear, and even for business executives. It includes outdoor wear and clothing for a variety of activities.
1. PANTS WITH BUGS
Pants that are baggy at the waist and flare out. Baggy pants frequently have a drawstring or elastic at the waist. As one of the most comfortable types of pants to wear, they are very popular.
2. BOTTOMS OF BELLS
Bell bottoms have a flared bottom to create a bell shape. They were popular in the 1970s and make periodic comebacks. The bell bottom can be subtle or overpowering.
3. CULOTTES
Culottes have a fitted waist but are flared and cut at knee length or shorter. When the wearer is standing still, they can resemble a skirt.
Further more Culottes are a popular summer option for those looking for something lighter and cooler.
4. TROUSERS FOR FATIGUE
Military uniforms inspired the design of fatigue pants. They are also known as cargo pants or army pants and frequently have patch pockets on the sides. They are most commonly found in olive or grey neutral colors.
5. JEANS
Jeans are popular among people of all ages because they can be dressed up or down. Denim fabric can be dyed in a variety of colors, stonewashed, ripped, and crimped to create a variety of textures.
Denim jeans come in a variety of styles. Jean styles include high rise, low rise, bootleg, straight leg, regular cut, bell bottoms, skinny jeans, and Capri.
moreover, Jeans, in particular, come in a variety of lengths and sizes. Knowing the various measurements used in the construction of a pair of jeans aids in understanding the fit and style.
most famous types of Jeans is still one of the most popular types of pants for men and women alike. Guess what I'm wearing as I type this? Of course, jeans!
6. PANTS HAREM
Harem pants are full and flowing, with gathers at the waist and ankles. These pants are extremely comfortable to wear, even in hot weather, and are made from fine, easy-to-drape fabrics like rayon.
7. LEGGINGS
Leggings or jeggings are a stretchy version of tight-fitting pants. They pull on and are very comfortable because they are mostly made with elastic waists.
Furthermore, Jeggings are the jeans version of leggings, and they frequently have a faux fly and stitching.
8. PALAZZO
Palazzo pants are funky and trendy due to their bright fabrics. They are flared and flowing and depending on the accessories and fabrics used, overall, they can be casual or formal.
Palazzo pants must be made of fine fabrics that drape easily to be flattering.
9. PANTS WITH PEGS
Pegged pants have a full waist and thighs but taper to a pleat at the ankle.
10. TROUSERS
Trousers are the more formal counterpart to pants. Furthermore, Trousers are more conservative and often come with a suit-style jacket when dressing for the office.
11. PANTS FOR SAILORS
Sailor pants, loose-fitting pants with a flare at the bottom, and a replica of sailors' pants. They frequently have two sets of buttons running down the front sides.
12. STRONG PANTS
Straight pants are, as the name implies, straight from top to bottom.
13. TOREADOR PANTS
Cropped and form-fitting toreador pants. moreover, They are a replica of the style of pants worn by toreadors during bullfighting
14. SUGAR PANTS
Stirrup pants are similar to leggings but have an ankle strap that fits under the foot. Furthermore, They are made of stretch fabrics.
IN CONCLUSION
In our fashion world, "wearing pants" has a much broader meaning. The variety of styles, lengths, fabric types, and design options ensure that there is something for everyone who wants to be seen in pants.
moreover, Wearing pants can be described as elegant, casual, funky, youthful, or timeless.